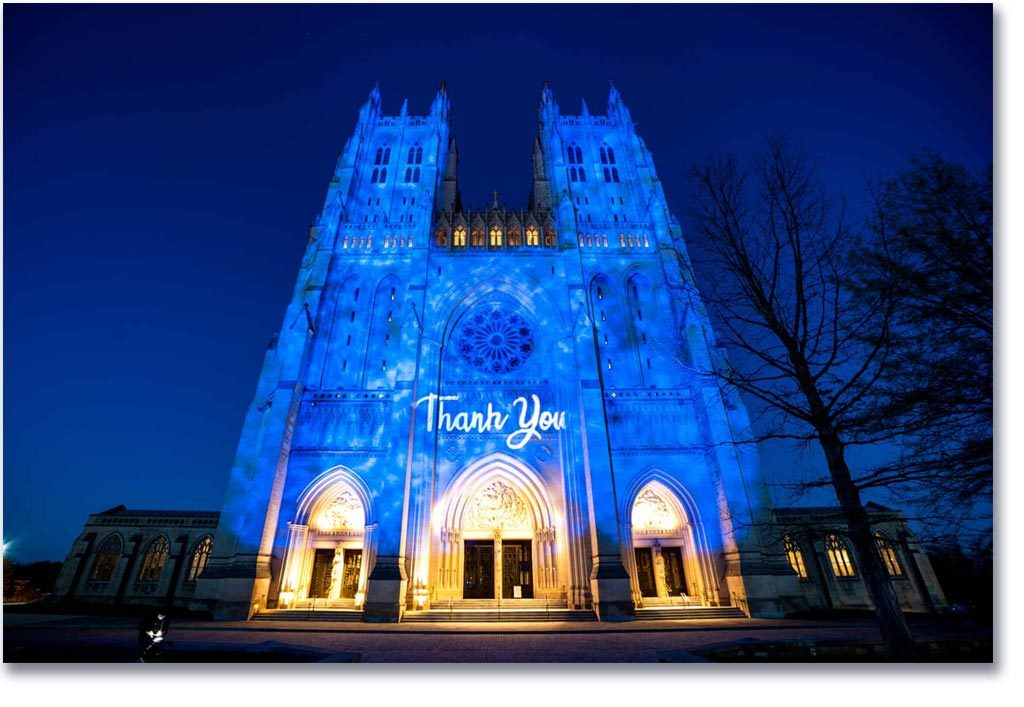 Photo: Jim Lo Scalzo, Washington National Cathedral, Washington DC
April 2020
By Terry and Linda Jamison, The Psychic Twins
"I learned that courage was not the absence of fear, but the triumph over it."
– Nelson Mandela
Welcome to our new blog, Future Fanatics…
The deadly Coronavirus crisis is having an historic impact on our businesses and personal lives, and we're not in Kansas anymore, Toto. Everything is upside down, just as we said it would be.
Most of us are sheltering in our homes as COVID-19 sweeps the planet like a wildfire raging out of control. We have been sounding the alarm on this and all of the recent catastrophes since 2015, and actually much earlier than that.
Some of our followers may remember that back in 2010 or 2011, we predicted the West Africa Ebola virus outbreak on Beyond the Gate radio. That was one of the worst in history, the first to cross national borders and export cases from Africa to the US and Europe.
Many of you have asked us if we predicted the coronavirus pandemic, and where. Below are several places where we made these predictions for 2020, along with links:
Below are some excerpts from our 2019-2020 World Predictions.
(Note: We also predicted this pandemic and vaccines Jan. 16, 2019 in our GOOD NEWS PREDICTIONS video on YouTube)
From our website – World Predictions for 2019 and 2020 (posted January 1, 2019):
Note: No portions of this newsletter may be copied or reprinted without the permission of Linda and Terry Jamison. Beware of imitators! The Psychic Twins is an officially registered trademark. © 2020
"We see more efforts in the future to control epidemics and contagious diseases. New vaccines will show promise.
We see more 'super drugs' being developed to fight growing pandemics."
"Trump is facing a turbulent time [in 2019 and 2020]… The Trump administration will continue to be embroiled in unrelenting controversies. Trump will continue to govern by decree like a monarch, causing chaos and global backlash. We see more drama coming…"
Recession and stock crash prediction:
"We see increasing volatility in the stock market, with extreme fluctuations globally. Get ready for some wild market swings in 2019 and 2020. "Mini-crashes" will happen throughout the next two years, so keep an eye on your investments…
"We believe that a recession in the US in not likely to happen in 2019, however, the US economy will slow in the second half of 2019 and in 2020… There will be more trade wars with China, and a slowdown in GDP growth." (Update: The economy contracted by 10.8% in the first quarter of 2020, which would be the steepest drop in gross domestic product since 1947. Economists say the economy entered recession in March of 2020)
This is a tweet of ours from 2015 (time-stamped)
Apr 2, 2015
Psychic Twins: "We do see a growing emergence of epidemics and infectious diseases globally."
– Excerpt from our World Predictions on Beyond the Gate Radio 1/11/15.
We predicted this pandemic and vaccines in our 'GOOD NEWS PREDICTIONS – 2019 and 2020 PREDICTIONS' video on our YouTube
Channel:
(5:56 – 6:24 in this video) "We see more efforts to control epidemics and contagious diseases. New vaccines will show promise. We see more 'super drugs' being developed to fight growing pandemics and viruses. There will be advancements in developing vaccines to fight cancer and flu outbreaks worldwide."
Link to watch this video: https://www.youtube.com/watch?v=diD61JfMkJ4
"Coronavirus is the worst pandemic we have experienced in the last century."
– Dr. Vivek Murthy, former Surgeon General of U.S.
Truly, this crisis is an apocalypse of sorts, an invisible enemy lurking around every corner of the globe. It is the worst Pandemic in over 100 years (since the Spanish flu, which killed 50 million people in 1918). More than 3 million people have tested positive for the Coronavirus, with close to 210,000 deaths. The US leads the world with more than 56,000 dead—double the count it was just a week ago. This is tragic beyond words, and every number is a real person who has a family and friends who mourn them.
What can we expect in the coming days and months?
The question we get the most has to be "When is this virus going away?" Well, it won't. But the answer is complex. The virus will come in waves, as mutations will naturally occur. And people who overcome the virus and become asymptomatic may be reactivated later. Businesses will start to open up by region and state by state, as the curve flattens. We see some cities banning concerts and sporting events until next year.
The only people that should be calling the shots are scientists and medical experts.
This is also the worst economic crisis in our lifetime, with more than 26 Million people filing for unemployment insurance this month, wiping out a decade of job gains.
The work and social landscape will never be the same, as this will be a "new normal" for all of us. Try to be patient, kind and sensitive to everyone at this time.
We're all in this together. Reach out to older neighbors and relatives, and people who live alone to make sure they're okay.
We will gradually be returning to work, but with many constraints through 2021 and even 2022. The federal government needs to scale up blood and antibody testing, tracking and tracing (which is woefully lacking on the level we need). Social distancing will need to be practiced by certain groups off and on through 2021 and beyond.
The race to develop Coronavirus vaccines and treatments
It could take at least a year to develop a working vaccine for everyone, but there may be an emergency vaccine available by the end of 2020 for health care workers on the front lines. As we predicted, many vaccines are in development now. According to the New York Times, "Novavax is one of more than two dozen companies that have announced promising vaccine programs that are speeding through the early stages of testing unlike ever before."
A balance needs to be struck between opening the country again and social distancing. Opening the doors too soon can lead to mass reinfection of the public, as this is such a contagious virus. This could lead to more statewide lockdowns and quarantine. There are no easy answers here. We see states opening up in phases, some starting in May, depending on how many cases of the virus they have. Testing will be more widely available in the fall, but still way short of what is needed.
Superheroes
The true heroes of this nightmare are the doctors, nurses, and health professionals who have cared for all of us these past months, often risking their lives. Not all heroes wear capes. They wear nurses uniforms, scrubs, medical visors and masks…and even garbage bags when they cannot get the proper protective gear. To all of these amazingly giving people, "thank you" is not enough. You are all earth angels and you deserve much more credit and pay than you get. A special shout out to all our essential workers everywhere. You rock.
Fear can be more viral than the actual virus, and sometimes we can make an event worse by holding on to that energy. By the same token, if we hold a vibration of love, we help to create healing. We have more power than we give ourselves credit for, and miracles are unfolding all the time. From a larger perspective, the epidemic can be seen as a wakeup call for humanity to reflect on our values and what matters most.
What we are facing now is an eerily dystopian scenario. It feels more like a sci-fi film than reality. But times of intense upheaval can birth innovation that no one previously could have imagined. Predictions of future events serve as a guide to take notice of places and circumstances that need more love and light during certain times. Love is such an important lesson on our planet as we navigate this vast sea of unknowns. It's the most significant challenge we're facing as individuals and as a collective.
Intuition is crucial now
Journalists and politicians have been saying "Nobody can predict the future," and "Nobody has a crystal ball" to see what's coming. But they are wrong. And maybe they should have been following our predictions!
We wrote the book Psychic Intelligence to help everyone develop their own natural intuitive gifts. Your intuition has never been more vital than it is right now. As we have said for many years, your intuition can make the difference between life and death.
Try not to put too much pressure on yourself right now to achieve big goals. Take care of immediate needs for yourself, your family and friends. But remember…our heart, compassion and inner light are what will guide us out of this and into a new world, and hopefully a world that is more spiritual and loving. Meditation and prayer can really help you stay centered and calm in the months ahead.
Note: No portions of this newsletter may be copied or reprinted without the permission of Linda and Terry Jamison. Beware of imitators! The Psychic Twins is an officially registered trademark. © 2020
SILVER LINING
(excerpt from our 2019 and 2020 World Predictions)
"If you have survived the hell fires and hate storms of the last few years, you will no doubt withstand the craziness to come in 2019 and 2020. We believe that the current upheaval in our world is an opportunity to begin anew, to review our beliefs and attitudes, and develop a shift in perception. We as a culture are facing radical transformation… radical paradigm shifts in almost every aspect. It is smashing our way of being and shaking our foundation to the core.
It seems like everything is falling apart. Old institutions, laws and values we came to believe as solid in the past are now in a state of total breakdown. What was up is down. Violence and hatred are becoming normalized. Opinions and lies are replacing real factual reporting. We can't continue to ignore what we need to do. But we always try to see a silver lining in the chaos. Rebirth is possible. The seeds of revolution are being awakened to a realization of what can emerge from the ashes of destruction and profound loss.
This is a critical juncture in history for humans. The ecological crisis and depletion of resources globally is forcing us toward a new way of being. It is up to each of us to take responsibility and do our part—however small—to heal the planet.
Painful challenges serve as a wakeup call to appreciate that we have more resilience, courage and compassion than we thought. We can choose to unite with others in a powerful wave of action to create positive—even revolutionary—change in our world."
Excerpt from our 2019-2020 World Predictions on www.psychictwins.com
There is an old adage, "The gods tend to whisper before they scream."
Nature is in charge now, and we need to listen up.
Don't stop believing.
Terry and Linda
The Psychic Twins
www.psychictwins.com
---
READING SPECIAL!
SAVE $50.00 NOW on your personal phone reading with Terry and Linda.
Use our Contact Form to request yours now.
https://psychictwins.com/contacts/
Note: No portions of this newsletter may be copied or reprinted without the permission of Linda and Terry Jamison. Beware of imitators! The Psychic Twins is an officially registered trademark. © 2020