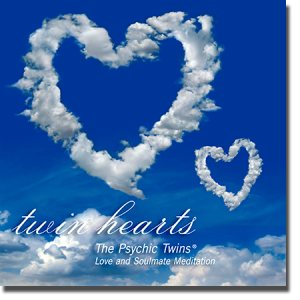 Twin Hearts – Love and Soul Mate Meditation
From: $10.99
Twin Hearts is available for download or for purchase as a high quality CD, delivered directly to your front door. (***Please note that you must download to a PC and not directly to a mobile device. Shipping is available to the continental US.)
Spirit wants to assist you in finding your divine soulmate. Twin Hearts is an inspirational meditation CD of original spoken affirmations, written by The Psychic Twins, accompanied by peaceful, healing music.

These empowering words will help you to relax, shift your beliefs regarding relationships, and open your heart to receive love.

Please take a moment to listen to this sample selection from Twin Hearts.
Here's what people are saying about our CD Twin Hearts:
OH. MY. GOODNESS!! I could listen to your CD just to feel good everyday! Your voices are so soothing! I ABSO-LUTE-LY LOVE-LOVE IT!! MahaLo! ♥
– Irie S.
I am a huge fan and supporter. After being single for 5 yrs and many dysfunctional relationships, I purchased your "Love" CD. I listened to it every single night. Within a month – I met a wonderful man! I truly believe he is my soul mate and that listening to your tape truly helped my heart open so I could receive true love.
With gratitude,
Karin D.
New York
I want that!!! I need to add that to my X-mas list!
Carlos M.
I bought five of them for friends as a gift — they love them too! …looking forward to your new book!
Gary A.
This is a great cd! I can feel the shift occurring each time I listen to it…wonderful.
Rita C.
"You guys are awesome!
I listen to your CD every night to help me relax. I never thought that a CD could have such an amazing effect on me! I have had insomnia for several years and finally I found a way to get me to sleep! Will you ever have another CD out? I know Twin Hearts off by heart!"
Chloe D., Ireland
I got the CD and card you sent me!!
Oh my God.. How beautiful. Your new Twin Hearts CD was just amazing. You sound wonderful on the affirmations!! Anyway, thank you a million times over,
D. Jackson
I got your Soulmate CD "Twin Hearts" in the mail today and put it in my DVD player to listen to it through my entertainment center. I really felt so much better after listening to it! I put it in my CD player on continuous repeat all night long so I can listen to it while I am sleeping.
Thank you!
David