"GOOD NIGHT MALAYSIAN THREE-SEVEN-ZERO…"
Epic Search for Missing Flight MH370
Greetings all Friends, Fans, and Future Fanatics spanning the globe…
On March 8th, a Boeing 777 took off from Kuala Lumpur, Malaysia, and simply disappeared from air traffic control and radar screens…
We have done two shows on the subject of the MH370 – here are the links to both shows:
March 20, 2014 predictions made on Sisters For the Soul: https://www.youtube.com/watch?v=G9xL5N5pR2M
The Psychic Twins on Intuitive Transformation recorded March 12, 2014: http://www.blogtalkradio.com/intuitivetransformationradio/2014/04/02/psychic-twins-terry-and-linda-jamison-onintuitive- transformation-radio-engel
Officials have confirmed our predictions that the missing Malaysia Aircraft MH370 "ended in the Southern Indian Ocean…all lives were lost." They also confirm that it was a deliberate act by someone in the cockpit, most likely the pilot. Called "the biggest aviation security mystery in history," the probe has sharpened focus on terror or sabotage by the pilot and possibly crew members, as we had predicted right after the plane went missing. The two of us disagree with many of the 'experts' on TV news shows, who still claim there was a catastrophic mechanical failure or fire onboard. It just doesn't add up. Now,a month later, several aviation experts central to the investigation are agreeing those scenarios are unlikely.
New information from Malaysian Satellite data reveals that Flight flew North and around Indonesia airspace to avoid Radar detection. This is why it is now a criminal investigation.
We have contacted many major news networks and authorities to offer our assistance. If ever Psychic Intelligence was needed, it's now. But our offers of assistance have been ignored. Instead, crazy guesses and conspiracy theories run rampant, and search teams from 22 countries are on a wild goose chase, racing against time. This is an unprecedented search, and we understand the highly charged and sensitive nature of this case. The feelings of family members must be respected.
Our prayers continue for the families of the 239 victims, that they will one day find answers they seek. Even though the possibility of finding the plane is a long shot, we believe in miracles…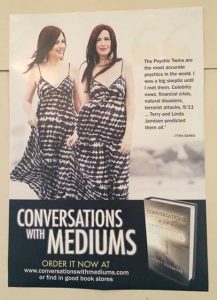 THE PSYCHIC TWINS ARE PROFILED IN TWO NEW BOOKS!
On the book front, we have just come out in two international books profiling our work and predictions: Conversations With Mediums by Scott Podmore (Hay House) and The 100 Top Psychics and Astrologers in America 2014 by Paulette Cooper (revised version that profiled us 18 years ago, first published in 1996). Both books are available on Amazon and are in stores worldwide!
Follow us on Facebook and Twitter for airdates! (The Psychic Twins is our FB fanpage)
Below, we have listed our world predictions that happened in March 2014 according to category. To read all of our documented world predictions from 1998 to 2014, visit our website dev.psychictwins.com and click on the "Predictions" link.
We greatly appreciate your wonderful letters of support, always! Be kind to one another, be safe…and we'll see you in the future…
Terry and LindaThe Psychic Twins
---
PREDICTIONS THAT HAPPENED IN MARCH 2014
All predicted on 1/6/14 Beyond the Gate
Listen to The Psychic Twins' 2014-15 Predictions Show on Beyond the Gate radio now! http://www.youtube.com/watch?v=3YZujEmkyZw
Political Scandals and NSA/ WikiLeaks Scandals Predicted
California Democratic Senator and 26 mobsters indicted for corruption, conspiracy and gun trafficking in American Hustle-style FBI sting. – 3/27/14
NSA Hacked Chinese Global Telecom Company, according to leaked Snowden docs – 3/23/14
3 Secret Service Agents Sent Home from Netherlands for acute intoxication, ahead of President Obama's arrival – 3/26/14
Army General on Trial for sex crimes (Brig. Gen. Jeffrey Sinclair) – 3/5/14
9 Air Force Commanders Fired Over Nuclear Missile Test Cheating Scandal – 3/27/14
Top Lawmaker Feinstein Accuses CIA of Illegally Spying on Senate – 3/11/14
Economy / Financial Fraud/ Scandals/ Cyberattacks
Global Stocks Tumble as Ukraine Tensions Intensify – 3/10/14
Hackers Steal Data for 12 Million Customers at S. Korean Phone Giant – 3/6/14

IRS says Phone Scam Largest Ever – 20,000 taxpayers have lost more than $1 Million – 3/20/14
More than 100 Arrested in International Fraud Crackdown, spanning Spain, the UK, US and Serbia – 2/28/13
Two Dozen Arrested in Home Insurance Fraud Ring, Southern Florida – 2/4/14
American Bitcoin Exchange CEO Found Dead at 28, 8th suspicious death in financial sector this year – 3/5/14
Massive Fake Health and Beauty Supplies Ring Busted – "Biggest counterfeit enterprise in US History" – 3/9/14
Service Employees Union Fined $205,000 for Campaign Violation – 3/10/14
Lady Gaga Charity Scandal – Donated Just $5,000 of its $2.1 Million – Born This Way Foundation – 3/12/14
Collin Street Bakery Accountant and wife indicted, embezzled $16.6 Million over 8 years – 3/14/14
FDIC Sues 16 Big Banks for Rigging LIBOR Rates – 3/14/14
US Government Sues Sprint for False Wiretap Claims – 3/4/14
Church Corruption and Scandals
$600,000 Stolen from Joel Osteen's Lakewood Church in Houston TX – 3/11/14
Terrorism and Lone Wolf Terror Attacks, School Shootings
Ukraine Crisis: Russian Soldiers Seize Crimea Hospital – 3/10/14
Russian Gunmen Storm Bases in Crimea and Seize Control – 3/11/14
Russian Troops Seize Gas Plant Beyond Crimean Border – 3/15/14
2,000 Russian Soldiers Land in "Armed Invasion" of Crimea, Ukraine – 3/1/14
Russia Executes De Facto Takeover of Crimea Region – 3/1/14
20 Police Feared Dead in Maoist Attack in India – 3/11/14
New York City "Tragedy of Worst Kind" – Explosion, 8 Dead as Two Buildings Collapse, 5-Alarm Fire, Bomb Squad on Scene (East Harlem) – 3/12/14
North Carolina: 4 Dead and Manhunt – 3/13/14
California Man Arrested Near Canadian Border (in Seattle Washington) in

Subway Bombing Terror Plot – 3/17/14

Al Qaeda Calls for Car Bombs in Major US Cities – 3/19/14
Washington D.C: Georgetown University Student Accused of Ricin Possession (Deadly Toxin) – 3/22/14
Virginia Navy Base: 2 Killed in Shooting – 3/25/14
Missouri: FBI Searching for Army Recruit Who Was Planning a "Fort-Hood

Inspired" Jihad Against US Soldiers – 3/31/14
Health and Medical Breakthroughs
Cure Found for Type 2 Diabetes – Study discovers rare genetic mutation – 3/7/14
Surgery Gives Long-term Help for Obese Diabetics – 3/31/14
Oral Contraceptives linked to increased risk of MS – 2/28/14
Big Advance in HIV Prevention – 3/4/14
Second baby born with HIV possibly cured by early treatment – 3/5/14
Scientists Map Evolution of HIV-Killing Antibody – 3/3/14
Immune Upgrade Give "HIV Shielding" – 3/6/14
Doctors Grow Ears, Noses Using Body Fat Stem Cells – 3/5/14
First Stem Cell Study of Bipolar Disorder Offers Hope – 3/25/14
Breast Cancer: Natural Treatment Breakthrough – Vitamin D Linked to i

mproved Survival rates – 3/7/14

Blood Test Predicts Alzheimer's Disease – 3/9/14
Landmark Alzheimer's Study Pinpoints Protein that Protects Aging Brain –

3/19/14

Autism Starts during second trimester: new study – 3/27/14
Autism disorders greatly linked with environmental factors (study) – 3/14/14
Blood Test can rule out heart attack in hospital ER – 3/31/14
FDA Approves Device to Treat Migraines – 3/13/14
Anorexia Breakthrough: Love Hormone may treat Anorexia – 3/12/14
Blood Test Offers Swifter and Safer Diagnosis of Sport Brain Injury – 3/13/14
Earthquakes/ Extreme Weather/ Mega Storms
Major 8.3 and 7.9 Magnitude Earthquakes Rock Chile; Tsunami Warnings issued, west coast evacuated – 3/31/14
Yellowstone National Park (in Pacific NW) shaken by largest earthquake in 34 years – 3/31/14
Los Angeles – 5.1 and 5.3 Mag Quakes Strike L.A. Area (La Habra) with over 100 aftershocks – 3/28/14
Indonesia – 5.5 and 6.3 Mag Earthquakes reported off Andaman and Nicobar Islands – 3/14/14 and 3/21/14
Chile Rocked by Two Strong Earthquakes, 6.7 and 6.2 – Tsunami Warning Activated – 3/16/14
Japan – Strong 6.3 Quake jolts Japan's Kyushu Island – 3/13/14
Japan – 6.7 Quake hits off Okinawa – 3/3/14
Mexico – 6.2 Quake Hits off Mexico's Southern Coast – 3/2/14
Washington: Massive Mile-wide Mudslide Kills 30 People, 100 missing after earthquake and flooding rains trigger tons of mud to slide. Oso, Washington – 3/22/14
Flash Flooding Swamps parts of Louisiana, Mississippi, Alabama, and Florida including New Orleans – 3/28/14
Celebrity Scandals and Predictions
Fashion Icon Death: Mick Jagger's Girlfriend, Designer L'Wren Scott Dead of Suicide in NYC

– 3/17/14
Paris elects a woman as Mayor, first time ever – 1/29/14
Stacy Keibler Marries Tech Entrepreneur Jared Pobre in beach wedding

–

3/8/14 (predicted in reading in 2010)

Joe and Teresa Giudice (Real Housewives reality show stars) Plead Guilty to Fraud, Failure to File Taxes. Both face 4 years in prison – 3/4/14
TV Pitchman Kevin Trudeau Heads to Prison for 10 years for Fraud – 3/17/14
Predicted all the top 2014 Oscar winners
(Predicted on Twitter)
Best picture –
"12 Years a Slave"
Best Actor in a leading role –
Matthew McConaughey – "Dallas Buyers Club"
Best Actor in a supporting role –
Jared Leto – "Dallas Buyers Club"
Best Actress in a leading role –
Cate Blanchett – "Blue Jasmine"
Best Actress in a supporting role –
Lupita Nyong'o – "12 Years a Slave"

Best Director –
Alfonso Cuaron – "Gravity"
---
PSYCHIC INTELLIGENCE:
Tune In and Discover the Power of Your Intuition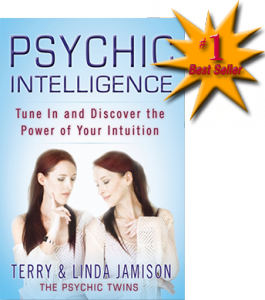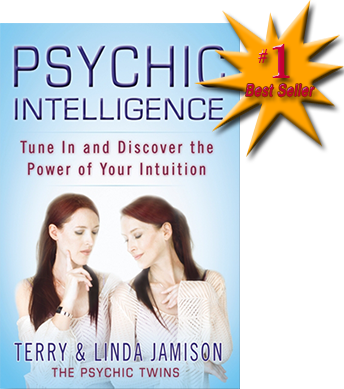 The Psychic Twins' #1 Best Selling book is available for purchase at AMAZON.COM! and a bookstore near you right now! PSYCHIC INTELLIGENCE: Tune In and Discover the Power of Your Intuition by Terry and Linda Jamison.
They have amazed audiences all over the world with their incredibly accurate predictions of global events, including earthquakes, terrorist threats, and, famously, the events of September 11, 2001. They've also worked one-on-one with countless clients who report that their predictions have later come true. Terry and Linda Jamison have undeniable psychic abilities . . . but so do you.
Now The Psychic Twins will help you tune in to and strengthen your own intuition, look into your future, and change your destiny. In this book, Terry and Linda share their astonishing gift with you. They give step-by-step instructions for how you can dissolve mental blocks and focus on exploring the Four Clairs: clairvoyance, clairaudience, clairsentience, and claircognizance.
TESTIMONIALS
You both shine so bright to hearts and souls that are searching for a spiritual light to follow. You are so gifted and spellbinding and your art and your writing, so powerful. I just feel in the years to come you will continue to inspire and enlighten people, by the hundreds and the thousands. You've already opened up and broadened so many hearts and minds.
– Sheena S., Trinidad
Psychic Intelligence is a good read – intelligent, yet easy to understand.
– Sylvia C. Browne, author of 40 books
Psychic Intelligence is the best spiritual book published to date!!! (Amazon reviewer)
– Denise O.
Psychic Intelligence should be at the top of Oprah's list for her Book Club 2.0 because it's a groundbreaking book by the world's most documented accurate psychics. Your book gives really practical and helpful advice anyone can use for bettering their lives and improving their situation. Highly recommended.
– Michael V.
Thank you for sharing your wisdom/knowledge with us in the way that you do and helping others not feel "weird" for believing in and having heightened intuition. You help us not feel alone, and you give us the tools to help ourselves. I never expected I could be this blown away! 🙂 I finally understand everyone before me and how they raved about Psychic Intelligence. I feel like a kid in a candy store or something when I talk about it! I'm just excited and thankful! Yay!
– Samantha W
---
Twin Hearts – Love and Soul Mate Meditation
Twin Hearts is available for download or for purchase as a high quality CD, delivered directly to your front door.Spirit wants to assist you in finding your divine soulmate. Twin Hearts is an inspirational meditation CD of original spoken affirmations, written by The Psychic Twins, accompanied by peaceful, healing music. These empowering words will help you
TESTIMONIALS
OH. MY. GOODNESS!! I could listen to your CD just to feel good everyday! Your voices are so soothing! I ABSO-LUTE-LY LOVE-LOVE IT!! MahaLo!
– Irie S.
I am a huge fan and supporter. After being single for 5 yrs and many dysfunctional relationships, I purchased your "Love" CD. I listened to it every single night. Within a month – I met a wonderful man! I truly believe he is my soul mate and that listening to your tape truly helped my heart open so I could receive true love.
With gratitude,
– Karin D. New York
I want that!!! I need to add that to my X-mas list!
– Carlos M.
I bought five of them for friends as a gift — they love them too! …looking forward to your new book!
– Gary A.
This is a great cd! I can feel the shift occurring each time I listen to it…wonderful.
– Rita C.
"You guys are awesome! I listen to your CD every night to help me relax. I never thought that a CD could have such an amazing effect on me! I have had insomnia for several years and finally I found a way to get me to sleep! Will you ever have another CD out? I know Twin Hearts off by heart!"
– Chloe D., Ireland
I got the CD and card you sent me!! Oh my God.. How beautiful. Your new Twin Hearts CD was just amazing. You sound wonderful on the affirmations!! Anyway, thank you a million times over,
– D. Jackson
I got your Soulmate CD "Twin Hearts" in the mail today and put it in my DVD player to listen to it through my entertainment center. I really felt so much better after listening to it! I put it in my CD player on continuous repeat all night long so I can listen to it while I am sleeping. Thank you!
– David
---
Psychic Twins Buzz
This is a record. I don't think that there are any predictions that are left that the twins made that have not come true already. Now you all see why I believe in them. No one else in the world can match their track record and talent (gift). That is why I wrote the article The Psychic Twins: Oracles of the 21st Century. Thank you, Linda and Terry, for everything!
– David M. Baker, author and host of Beyond the Gate Radio
You are angels among us. If government was clever you could be President Obama's best advisors! You are miracles and an amazing inspiration.
– Ralitsa P.
Thank you for choosing to be born, blessing our earth with your wonderful presence. In Love and Light…
– Lynette
I just wanted to say how truly grateful I am to both of you for your empowering words of hope, wisdom, and faith. I cannot begin to explain to you how much your book "Psychic Intelligence" has enlightened my life, and in the process, the lives of others. You teach of happiness and love, and live by it as well, and I appreciate your sincerity and generous hearts.
– Preston J.
The Psychic Twins are absolutely AMAZING. They are our A-Listers!
– Ricki Lake, TV host and author, The Ricki Lake Show
Linda and Terry Jamison are women of deep character, passion, confidence and integrity with gifts that display truth and power on every level. They bring to their work so much more than their very evident and proven psychic abilities – they emanate an energy that comes straight from their hearts allowing others to know they are connecting to their unique essence and needs in a truly open, powerful and authentic way.
– Dr. Kristin Whitelaw (Owner at Dr. Kristin Whitelaw Holistic and Transformative Counseling)
When I first learned of the twins, I was a fan. When I read their books they became my heroes, but then I started to listen to them… to really listen. Not only to their predictions, but to them, and what I heard were two beautiful spirits who choose every day to help others, and in doing so I found Kindred Spirits.
– Joanna D.
The Psychic Twins are the most documented psychics in history. Their amazing world predictions include terrorist attacks, medical breakthroughs, national and natural disasters, the U.S. economy, stock market crashes, et al. Because they keep files on all predictions they write, The Psychic Twins were able to locate at least five different documents of their channeled writing which specifically foretold these events of 9/11 for the year 2001.
– Art Bell "Coast to Coast A.M." Premier Radio 11/99
The Psychic Twins have mind-blowing ESP! They offered us proof on tape of 9/11 and their other amazing world predictions.
– ABC Nightline
I'm obsessed with The Psychic Twins! Terry and Linda are so spectacular and they've predicted so many insanely accurate things. Their new book Psychic Intelligence is a classic!
– Colette Baron-Reid, author of The Map
You two are the most accurate with predictions and I love both of you….you both are a shining light in this world!
– Caitlyn A.
I saw you on The View and I am extremely amazed at the accomplishments that the two of you have achieved!
– Patrick M.
Fire all of homeland security and hire Terry and Linda Jamison!
– Larry
I have watched every show you two have been on. You two have such a wonderful spirit and great sense of humor. Thank you for your beauty, grace and spirit.
– Kathleen L.
The charisma and power you two have is just unbelievable, and a confirmation of your being genuine and sincere.
– Olivier N., England
Note: No portions of this newsletter may be copied or reprinted without the permission of Linda and Terry Jamison. Beware of imitators! The Psychic Twins is an official registered trademark. © 2016
READINGS WITH THE PSYCHIC TWINS
Due to an overwhelming demand for The Psychic Twins' services, they have closed their waiting list for readings for the time being. Even though they cannot respond to the thousands of emails they receive on a daily basis, no offense is ever intended. All emails are greatly appreciated.
---
THE PSYCHIC TWINS' NEW ONLINE STORE!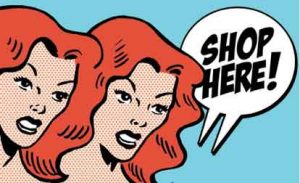 Our original T-shirts, tote bags, cell cases, mugs, and more!
---