BLIZZARDS AND ICE STORMS AND CYCLONES—OH MY!
Greetings to all Friends, Fans, and Future Fanatics spanning the globe…
Just when you thought we couldn't get worse weather, the US got one record- breaking storm after another! Yes, we did predict all of them on Beyond the Gate Radio 1/11/15…here's a re-cap:
SNOW-POCALYPSE!
Boston topped 100 inches of snow in a season for the second time in recorded history this week, which brings this season's total to 102 inches. That's 5 inches shy of the all-time record! Boston has smashed several snowfall records, including snowiest February and snowiest all-time month, and one of the coldest as well, breaking the record for most sub-freezing days ever seen in February.
We also saw 'The Blizzard of 2015' slam the New England coast with significant coastal flooding. Hundreds of thousands were without power as winter storms blasted the South and Mid-Atlantic states, and sadly, dozens of people have died from snow and freeze-related conditions.
HOLY GUACAMOLE, NIAGARA FALLS FREEZES!
Niagara Falls froze over and the Great Lakes are still 90% frozen solid!
The "Arctic Blast" brought historic cold across the US, and was longer in duration and more severe than what the country experienced in January 2014's "Polar Vortex."
Much of the country faced a record deep freeze, with historic cold reported across the eastern United States, South and Midwest.
27 states are still under extreme wind chill warnings. Some of the coldest weather in decades stretches from the Great Lakes to the Gulf of Mexico. Temps plummeted to minus -30 in many northern cities, 30 degrees below normal!
Detroit and Chicago were hit with their third-biggest snowstorms in history, with close to 20 inches. Bangor, Maine had a record 53 inches of snow in 30 days, which hasn't been seen since 1969.
TWIN CAT 5 CYCLONES BLAST AUSTRALIA
In Australia, two very destructive CAT 5 Cyclones hit Queensland and the Northeast coast last week.
We are sending warm thoughts to all of you in the storm areas!
We already aired two annual world predictions shows in January—scroll down for the links. Thanks for all your kind and supportive posts and emails.
The new Predictions Shows are on YouTube (links below), with over 60,000 views, and full transcript on Scribd.
Keep reading…below, we have listed a record 100 world predictions we made that happened in December of 2014.
Stay safe…and we'll see you in the future…
Linda and TerryThe Psychic Twins
www.psychictwins.com
OUR NEW ALIEN T-SHIRTS IN OUR STORE NOW!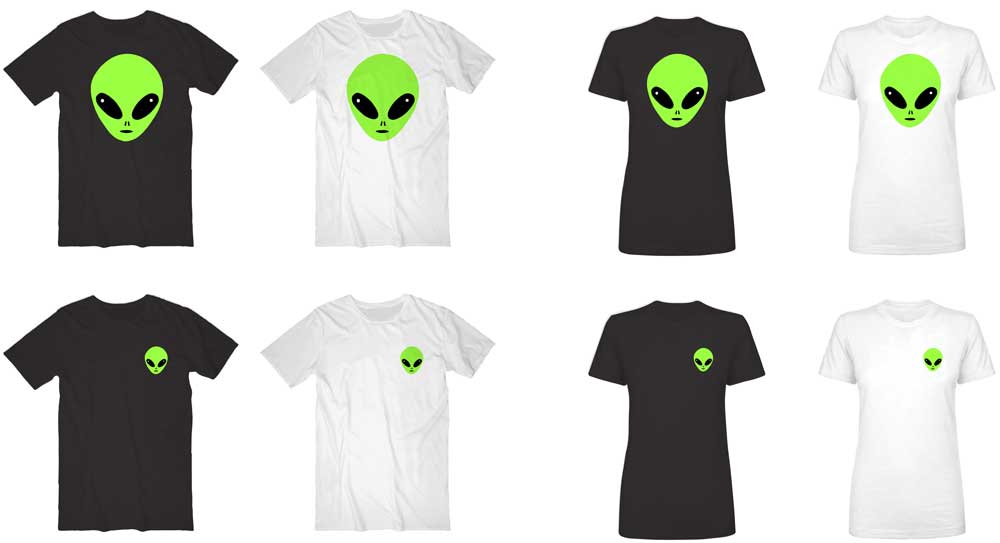 We are excited to announce our new Alien T-Shirts that we designed are now available in our store, in guys' and girls' sizes and in many colors! A must-have for all you fashion-conscious aliens!
Watch our Alien Abductions video with Shane Dawson:
---
**As a side note here, we have many people online who are making up lies about our predictions, because they are afraid of what they don't understand. We share this not as a victory lap, but to correct misunderstandings and in our own defense. We appreciate all of you who have helped to defend our work over the years, and who have contradicted the false stories about us online. We NEVER doctor our radio shows or YouTube videos, or edit them after they air. That is why we make our predictions on the shows that other people own.
---
THE GIRLS WITH THE
CRYSTAL BALLS ARE BACK…
LISTEN TO OUR ANNUAL WORLD PREDICTIONS SHOWS FOR 2015!
The Psychic Twins on BEYOND THE GATE RADIO with New World Predictions for 2015-16 (podcast)
It's become an annual tradition…This year we celebrated our 5th year making world predictions on David Baker's show, and the 5th Anniversary of Beyond the Gate Radio!
This show aired live on January 11, 2015 at 6:00 pm Pacific time.
Click here to listen: http://www.youtube.com/watch?v=bPcff1n9O3k
Scribd: World Predictions for 2015-2016 by Terry & Linda Jamison, THE PSYCHIC TWINS (Complete Transcript)
https://www.scribd.com/doc/256448488/World-Predictions-for-2015-2016-by-Terry-Linda-Jamison-THE-PSYCHIC-TWINS-on-Beyond-the-Gate-Radio-Transcript
Also: The Psychic Twins on Intuitive Transformation Radio, with host Matthew Engel – New bonus predictions for 2015-16 (podcast) –
This show aired on January 15, 2015 (recorded on January 7, 2015)
To listen to the podcast, click on link below and click on arrow to start:
http://www.blogtalkradio.com/intuitivetransformationradio/2015/01/15/2015-predictions-psychic-twins-terry-and-linda-jamison-matthew-engel
Below, we have listed our world predictions that happened in December 2014, according to category. To read all of our 1,200 documented world predictions from 1998 to 2015, visit our website www.psychictwins.com and click on the "Predictions" link.
100 PREDICTIONS THAT HAPPENED IN DECEMBER 2014
(a new record)
(All predicted on 1/6/14 Beyond the Gate)
Listen to last year's show: The Psychic Twins' 2014-15 Predictions Show on Beyond the Gate radio now! We have 300,000 hits on this show alone: http://www.youtube.com/watch?v=3YZujEmkyZw
Government, Political and Military Scandals
Texas leading 24 States suing the Obama Administration over his executive actions on Immigration – 12/11/14
House Republicans challenge Obama's executive actions, file lawsuit over ObamaCare – 11/21/14
Oracle slaps Oregon with lawsuit over troubled ObamaCare website – 12/1/14
Obama advisor Gruber admitted ObamaCare "might not be affordable" while he was writing the bill with the White House – 12/31/14
CIA report: CIA misled Americans after 9/11 – 12/9/14
Military scandal: 12 Navy sailors implicated in filming female officers showering; investigation underway – 12/4/14
IRS and DOJ scandal: Justice Department involved in IRS targeting – 800 emails reveal conspiracy to target conservatives – 12/10/14
New York Congressman Grimm pleads guilty to federal tax evasion, wire fraud and perjury (Rep. Grimm later resigned) – 12/23/14
Federal government recognizes same-sex marriages in six more states (total of 32 states) – (Predicted on Art Bell Coast to Coast AM, 2/2/99) – 10/25/14
Economy/ Financial Fraud/ Scandals/ Cyber Attacks
New York Deutsche Bank charged with tax fraud to avoid $190 Million in taxes – 12/8/14
70% of US industries added jobs in November 2014 – 12/5/14
"SONY-POCALYPSE": Sony cyberhack was worst ever. Sony employees' families threatened: "Your families are in danger." (FBI determined North Korea was responsible) – 12/4/14
Sony cyberattack was the most damaging corporate hack in history, called "an act of war" by FBI – 12/16/14
Sony hackers expose celebrity aliases, salaries, scripts, contracts, and personal info (all leaked online) – North Korea responsible – 12/9/14
Sony PlayStation Network taken down by hackers again: Lizard Squad claims responsibility. Also hacked Xbox Live last week – 12/8/14
Christmas Day hack: Sony PlayStation and Xbox Live down again, 160 million customers affected; Lizard Squad takes credit – 12/25/14
Update Sony: 3 Sony workers sue Sony over data breach in class action lawsuit – 12/18/14
North Korea deep into cyber warfare, defector says – "Bureau 121 Agency" has 1,800 cyberwarriors – 12/18/14
North Korea's internet appears to be under mass cyberattack, possibly by US – 12/22/14
Government hacks and security breaches skyrocket – "Espionage is happening at a rate we have never seen before," said Denise Zheng – 12/19/14
Iran hackers targeting US energy, defense firms, FBI warns – 12/12/14
Russian Ruble falls to new record lows, falls 57% in value since January, lost $150 Billion in 4 months…Economy "in collapse" – 12/16/14
DOW plunges 315 points to end worst week in 3 years – 12/12/14
Stock Market volatility returns with a vengeance in second half of 2014 – 12/12/14
DOW up +421 in largest 2-day rise in six years – 12/18/14
Hackers with Wall Street expertise stole merger and acquisition information from more than 80 companies for a year. Called "new wave of insider trading" – 12/1/14
Bebe Clothing store hacked, exposes payment card info – 12/5/14
Staples hack exposes 1.2 million credit cards in 115 of chain's office supply stores – 12/19/14
JFK Airport gun bust: 4 arrested in one of biggest security breaches in years. Feds bust Delta Airlines gun-smuggling ring. 153 firearms, many loaded, were smuggled in 20 Delta flights between Atlanta and New York City – 12/22/14
Wells Fargo Bank fined for anti-money laundering failures -12/18/14
Terrorism, Lone Wolf Terror Attacks, School Shootings, Riots
New York: police kill intruder who stabbed student in NY synagogue – 12/9/14
New York City: 2 NYPD Police killed in ambush in Brooklyn. Suspect boasted about "revenge killing of cops" – also killed girlfriend in Maryland, then himself – 12/20/14
New York: NYPD facing a wave of violent threats against officers. 8 arrested in 5 days – 12/25/14
New York City: 40 separate threats made against NYC police in 3 days, since Brooklyn cop killings – 12/24/14
Los Angeles, California: 3 wounded in triple shooting in Beverlywood; suspect at large – 12/17/14
Los Angeles, CA: 2 men open fire on LA police patrol car – 12/29/14
Florida: 9 shot in drive-by at Miami basketball court – 12/23/14
Florida: Manhunt in Tampa following triple murder – 12/5/14
Florida: Police officer killed, Tampa shooter in custody – 12/21/14
Chicago: Multiple victims stabbed on train from Chicago to Michigan – 12/4/14
Virginia: Man shoots 3 in Manassas – 12/20/14
Portland, Oregon: 4 students shot at a high school – 12/12/14
West Virginia: Shooting spree leaves four dead, including gunman – 12/1/14
West Virginia: 5 dead in shooting rampage – 12/2/14
Texas man indicted for plot to blow up Muslim holy sites in Jerusalem – 12/9/14
Texas: 4 dead in Crowley, Texas home – 12/28/14
Atlanta, Georgia: 2 police officers shot, causing gun battle, lengthy manhunt – 12/12/14
Philadelphia, Pennsylvania: 6 killed in shooting spree – 12/15/14
Philadelphia, PA: Man tries to run down police in Upper Darby; they shoot and kill him – 12/30/14
Washington, DC: 5 stabbed at bar on Pennsylvania Avenue – 12/27/14
Tennessee: FBI warns of ISIS plot to bomb Memphis-Arkansas bridge – 12/22/14
Louisiana mall: 1 dead after shooting – 12/24/14
France arrests 10 people in jihadist network who sent fighter planes to Syria – 12/15/14
France: 5 terror attacks thwarted, 13 networks broken – 12/17/14
France: 11 people injured in Eastern France (Dijon) after man drives into crowd shouting Islamic slogans – 12/21/14
France: Police suspect terror in knife attack on 2 officers. Man shouted "Allahu Akbar" – 12/21/14
France: Third attack in 2 days – 10 injured as attacker rams van into French Christmas market, then stabs himself. Prime Minister Valls: "We have never known such serious danger where terrorism is concerned." – 12/22/14
Canada: Officers shoot Canadian man on US border waving handgun – 12/21/14
Russia: Militants attack police post in Chechnya, 19 dead – 12/4/14
Yemen: Explosion rocks US Yemeni military base – Al Qaeda militants targeted base in retaliation – 12/10/14
Yemen: 2 car bombs kill 31 people, including 20 children – 12/16/14
Yemen: Al Qaeda kills 2 Western hostages during SEALS raid – 12/6/14
Kenya: Islamist rebels kill 36 workers, Al Shabaab responsible – 12/2/14
Africa: Militants attack African Union base in Somali capital, 9 dead – 12/29/14
Pakistan: Taliban kills 148, mostly children, in school – 12/16/14
Pakistan: 77 militants killed following school slaughter – 12/16/14
Pakistan: Family slaughtered in honor killing – 12/10/14
Pakistan plans to execute 500 militants – 12/22/14
Afghanistan: Multiple Taliban attacks kill 20 – 12/13/14
Afghanistan: Taliban attackers kill 3 South Africans in Kabul – 12/1/14
Nigeria: Boko Haram kidnaps 185 women and children, kills 32 – 12/18/14
Nigeria: Bombing kills 27 at bus station as Boko Haram storms another town – 12/22/14
Nigeria: 15 killed in Boko Haram raid – 12/31/14
Iraq: US kills 3 ISIS leaders in air strikes – 12/18/14
Iraq: Suicide attack at funeral near Baghdad kills 15, wounds 26 – 12/19/14
Iraq: ISIS claims suicide bombing that killed 38 – 12/26/14
India: Tribal guerrillas kill 54 in wave of attacks in Northeast India – 12/23/14
UK and US: Al Qaeda magazine calls for lone wolf terrorists to blow up Easy Jet and British Airways planes using bombs made in their kitchens. American Airlines, Delta and United also targeted – 12/28/14
Health and Medical Breakthroughs
Spinal cord injury: Scientists herald breakthrough treatment in reversing spinal damage – 12/4/14
Weight loss breakthrough: London research study claims "feel full" chemical could be the future of weight loss. – 12/11/14
Heart Disease breakthrough: Novartis heart failure drug provides many benefits – 11/18/14
Alzheimer's study: Smokers have a 45% higher risk of developing dementia than non-smokers – 10/2/14
Alzheimer's: New non-invasive MRI method can detect Alzheimer's disease early – 12/22/14
Earthquakes/ Extreme Weather/ Mega Storms
France: 5 dead, thousands evacuated in severe Southern France floods – 11/30/14
California: Fiercest storm in 5 years – "Pineapple Express" pounds California, hundreds of schools closed. Tens of thousands lost power – 12/11/14
Los Angeles, CA: Rare tornado strikes for first time in decade – 12/12/14
Southeast US: 4 dead as severe storms, tornadoes rip across Southeast from Missouri to Michigan – 12/23/14
Philippines: 53 dead in flooding and landslides caused by tropical storm Jangmi. 132,000 evacuated – 12/31/14
2014 was warmest year ever, breaking three records – 12/27/14
Malaysia and Thailand: Epic flooding, landslides – 12/17/14
Celebrity/ Sports/ College/ and Church Scandals
Mafia boss Gambino arrested in New York, 8 arrested in $1 million dollar black mail scheme – 12/12/14
Scientists tally up all of Dr. Oz Show advice. Half of it found to be baseless or wrong – 12/17/14
NFL Superstar Darren Sharper indicted, faces life in prison with no parole for drugging and raping eleven women – 12/12/14
Rabbi Freundel, 63, secretly tapes at least 150 women in ritual bath in a synagogue in Georgetown, Washington DC – 11/2014
Chinese campus brothel gave students discount for sex; run by the university president – 10/27/14
Year of the Woman
Church of England finally officially welcomes female bishops – 12/15/14
Hillary Clinton tops Oprah on Most Admired Woman List 2014 (Gallup Poll) – 12/29/14
Singer Taylor Swift has bestselling album of 2014 – "1989" sold 3.6 million copies, beating "Frozen" soundtrack – 12/31/14
---
CHECK OUT OUR NEW ZODIAC LINE OF CLOTHING, JEWELRY AND GEAR!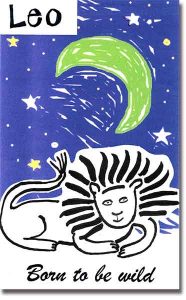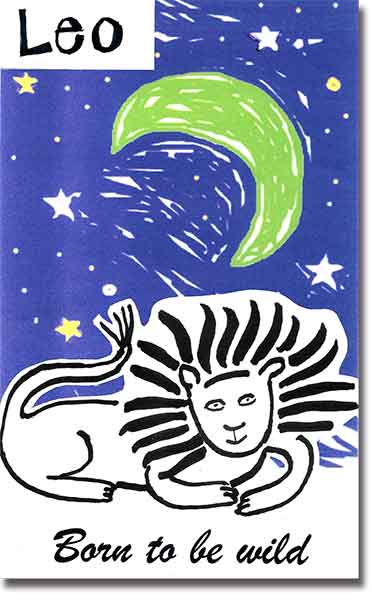 Welcome all new subscribers…We're so excited to announce our new merch designs coming out in November! We have designed an entire line of ZODIAC clothing and jewelry for all of you!!! These will be available within the next few weeks on The Psychic Twins Shop, so you can grab something for all the Capricorns, Geminis and other zodiac signs in your life. They make great holiday gifts for your family and friends. Watch our YouTube Channel for the official launch date! We have new celebrity collabs going up soon, so stay tuned…
Be sure to share this newsletter and help us reach one million YOUTUBE subscribers by the end of the year!
We also have a brand new website! Check us out at psychictwins.com.
---
CHECK OUT The Psychic Twins' interview with SUPERMODELS UNLIMITED
Click here to view the article: "The Power of 2" (September 2016 issue)
---
THE PSYCHIC TWINS' NEW ONLINE STORE!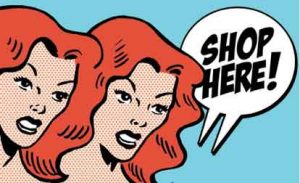 Our original T-shirts, tote bags, cell cases, mugs, and more!
---
YOUTUBE CHANNEL: HELP US GET TO ONE MILLION SUBSCRIBERS!
Thanks for helping our new YouTube Channel become the fastest-growing of all time! We now have nearly 700,000 subscribers in just 12 months.
'The Psychic Twins' YouTube Channel – Click here to subscribe!
https://www.youtube.com/channel/UCJZSVCGZksXJWlQECPJvk1A
---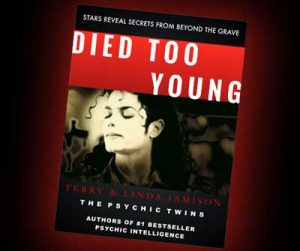 LOVE IT!! NOSTRADAMUS IN STILETTOS HAVE DONE IT AGAIN!
This book is absolutely brilliant on so many levels! The Psychic Twins have done it again… they are simply beyond amazing!
– Lola B. Braut
Spectacular Reading – 5 Stars!
Absolutely loved reading this book. Couldn't put it down! Can't wait for the next one to come out.
– Tina D.
Wow! My mind is blown reading Died Too Young!
The chapter on Natalie Wood is something I have suspected. It is BEYOND amazing!!!!!! Well done. #truth
– Suzanne S.
One million stars!!!
– Meghan C.
Not enough stars in the skies to rate this one….
Another extraordinary gift has been given us by Terry and Linda Jamison with this wonderful book! The Psychic Twins have provided insights and and answers to so many mysteries which have long haunted us. Their compassionate dialogue, especially with those stars who endured unspeakable emotional and physical abuse while being held prisoner in the spotlight of fame, was especially moving… giving voice to their suffering and meaning to their incomplete lives. This is an inspiration to all of us left to ponder the meaning of fame, and life after death. We have been blessed with two angels that can pierce the veil of illusion separating us from our loved ones passing before us… This book is a rare enchantment to be treasured, inspiring us with the beauty of the higher dimensions beyond life and the marvels in life after death.
– Martica L.
THIS BOOK IS PURE MAGIC!!
– Kristyn B.
Amazing book! 5 Stars!
Terry & Linda did a phenomenal job channeling all of these beautiful souls. I was shedding tears as I read these amazing messages of wisdom. A beacon of light & truth!
– Elena F.
Amazing and life altering read… "Died Too Young" is helping me to look at my life with a new vigor.
– Jason H., Perth, Australia
---
Twin Hearts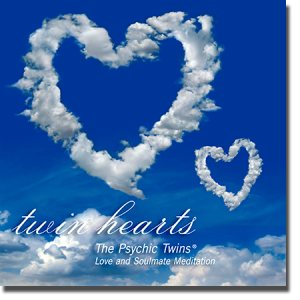 "Twin Hearts" Meditation CD –
Twin Hearts is available for download or for purchase as a high quality CD, delivered directly to your front door. Spirit wants to assist you in finding your divine soulmate. Twin Hearts is an inspirational meditation CD of original spoken affirmations, written by The Psychic Twins, accompanied by peaceful, healing music. These empowering words will help you to relax, shift your beliefs regarding relationships, and open your heart to receive love.
Twin Hearts Buzz
OH. MY. GOODNESS!! I could listen to your CD just to feel good everyday! Your voices are so soothing! I ABSO-LUTE-LY LOVE-LOVE IT!! MahaLo! ♥
– Irie S.
I am a huge fan and supporter. After being single for 5 yrs and many dysfunctional relationships, I purchased your "Love" CD. I listened to it every single night. Within a month – I met a wonderful man! I truly believe he is my soul mate and that listening to your tape truly helped my heart open so I could receive true love.
With gratitude,
– Karin D. New York
I want that!!! I need to add that to my X-mas list!
– Carlos M.
I bought five of them for friends as a gift — they love them too! …looking forward to your new book!
– Gary A.
This is a great cd! I can feel the shift occurring each time I listen to it…wonderful.
– Rita C.
"You guys are awesome! I listen to your CD every night to help me relax. I never thought that a CD could have such an amazing effect on me! I have had insomnia for several years and finally I found a way to get me to sleep! Will you ever have another CD out? I know Twin Hearts off by heart!"
– Chloe D., Ireland
I got the CD and card you sent me!! Oh my God.. How beautiful. Your new Twin Hearts CD was just amazing. You sound wonderful on the affirmations!! Anyway, thank you a million times over,
– D. Jackson
I got your Soulmate CD "Twin Hearts" in the mail today and put it in my DVD player to listen to it through my entertainment center. I really felt so much better after listening to it! I put it in my CD player on continuous repeat all night long so I can listen to it while I am sleeping. Thank you!
– David
---
Psychic Twins Buzz
This is a record. I don't think that there are any predictions that are left that the twins made that have not come true already. Now you all see why I believe in them. No one else in the world can match their track record and talent (gift). That is why I wrote the article The Psychic Twins: Oracles of the 21st Century. Thank you, Linda and Terry, for everything!
– David M. Baker, author and host of Beyond the Gate Radio
You are angels among us. If government was clever you could be President Obama's best advisors! You are miracles and an amazing inspiration.
– Ralitsa P.
Thank you for choosing to be born, blessing our earth with your wonderful presence. In Love and Light…
– Lynette
I just wanted to say how truly grateful I am to both of you for your empowering words of hope, wisdom, and faith. I cannot begin to explain to you how much your book "Psychic Intelligence" has enlightened my life, and in the process, the lives of others. You teach of happiness and love, and live by it as well, and I appreciate your sincerity and generous hearts.
– Preston J.
"The Psychic Twins are absolutely AMAZING. They are our A-Listers!"
– Ricki Lake, TV host and author, The Ricki Lake Show
Linda and Terry Jamison are women of deep character, passion, confidence and integrity with gifts that display truth and power on every level. They bring to their work so much more than their very evident and proven psychic abilities – they emanate an energy that comes straight from their hearts allowing others to know they are connecting to their unique essence and needs in a truly open, powerful and authentic way.
– Dr. Kristin Whitelaw (Owner at Dr. Kristin Whitelaw Holistic and Transformative Counseling)
When I first learned of the twins, I was a fan. When I read their books they became my heroes, but then I started to listen to them… to really listen. Not only to their predictions, but to them, and what I heard were two beautiful spirits who choose every day to help others, and in doing so I found Kindred Spirits.
– Joanna D.
The Psychic Twins are the most documented psychics in history. Their amazing world predictions include terrorist attacks, medical breakthroughs, national and natural disasters, the U.S. economy, stock market crashes, et al. Because they keep files on all predictions they write, The Psychic Twins were able to locate at least five different documents of their channeled writing which specifically foretold these events of 9/11 for the year 2001.
– Art Bell "Coast to Coast A.M." Premier Radio 11/99
The Psychic Twins have mind-blowing ESP! They offered us proof on tape of 9/11 and their other amazing world predictions.
– ABC Nightline
I'm obsessed with The Psychic Twins! Terry and Linda are so spectacular and they've predicted so many insanely accurate things. Their new book Psychic Intelligence is a classic!
– Colette Baron-Reid, author of The Map
I saw you on The View and I am extremely amazed at the accomplishments that the two of you have achieved!
– Patrick M.
Fire all of homeland security and hire Terry and Linda Jamison!
– Larry
I have watched every show you two have been on. You two have such a wonderful spirit and great sense of humor. Thank you for your beauty, grace and spirit.
– Kathleen L.
The charisma and power you two have is just unbelievable, and a confirmation of your being genuine and sincere.
– Olivier N., England
---
Books Written By Terry and Linda Jamison
Separated at Earth
Our First Book
SEPARATED AT EARTH: The Story of the Psychic Twins is the inspiring, amazing story of the world-famous Psychic Twins, Terry and Linda Jamison. "The Psychic Twins" are internationally acclaimed for their astounding predictions of the 9/11 World Trade Center and Pentagon attacks, and the 2000 stock market crash (all on national radio show Art Bell, 1999.) Separated at Earth is the inspiring, amazing true story and it is available on Amazon.com by clicking here.
Psychic Intelligence
#1 Best Seller
The Psychic Twins' #1 Best Selling book is available for purchase at Amazon.com! and a bookstore near you right now! In their new book Psychic Intelligence, Terry and Linda Jamison explain, step-by-step, how to dissolve the blocks that can prevent you from using and trusting your own intuition. Visit Amazon.com now and purchase The Psychic Twins' second book, "Psychic Intelligence". This book is available right now by clicking on the following link. Click here to visit Amazon.com.
Book Buzz
Psychic Intelligence is a good read – intelligent, yet easy to understand.
– Sylvia C. Browne, author of 40 books
Psychic Intelligence is the best spiritual book published to date!!! (Amazon reviewer)
– Denise O.
Psychic Intelligence should be at the top of Oprah's list for her Book Club 2.0 because it's a groundbreaking book by the world's most documented accurate psychics. Your book gives really practical and helpful advice anyone can use for bettering their lives and improving their situation. Highly recommended.
– Michael V.
Psychic Intelligence By Terry and Linda Jamison is one of the best books I have ever read! We are all psychic, and this book shows you how to tap into it step by step! My 16 year-old daughter is reading it now and she has found out she has more abilities than she thought she had, and has also gained new psychic and spiritual abilities that I've noticed. Terry and Linda have helped awaken more of my child's psychic abilities and I am very grateful of this. I am just simply fascinated! I highly recommend this book for Oprah's Book Club! On a 1 to 10 scale, I say10 hands down and over the top!!
– Danielle D.
Thank you for sharing your wisdom/knowledge with us in the way that you do and helping others not feel "weird" for believing in and having heightened intuition. You help us not feel alone, and you give us the tools to help ourselves. I never expected I could be this blown away! I finally understand everyone before me and how they raved about Psychic Intelligence. I feel like a kid in a candy store or something when I talk about it! I'm just excited and thankful! Yay!
– Samantha W.
I have seen and heard of other psychics in this life, but you two are just beyond! Your track record and your help with so many people in this life is amazing. I truly believe God has placed you in this lifetime as a guide for humanity.
– Jean V.
Have just seen your episode of The UneXplained, it took my breath away. First, the reading was heartbreaking, so emphatic, very emotional and yet another proof of your authenticity. After so many years of uncertainty, this family has now complete insight what really happened to their daughter/sister. This shows that everything happens for a reason (even such a terrible crime as murder). It's all about learning our karmic lessons as forgiveness to enlighten our soul. Terry and Linda, you are truly a blessing for humankind. ♥♥
– Sana M., Serbia
Darling Beloved Mermaids,
My head continues to spin around really fast, trying to keep up with you Two! You are so beautiful and incredible… thank you
for being alive and showing us the future so clearly!
– Martha L.
Lady Gaga's got nothing on you two. You give the world hope and you do it with such humility and compassion. Hope is something that is sorely needed in the world right now. You're super connected to the Source.
– Judith R., Arizona
You are both such pure souls, real gems… the real deal… you carry the energy that could heal the world. You help the world as we search for the divine, you represent the highest energy — the essence of love. With individuals like you the community around us is blessed. You represent the highest expression of love & consciousness. Bravo, great teachers, BRAVO.
– Delaine S., Texas
Your gifts are so much more important than showmanship, curiosity and money. They hold among them the unique attributes to help usher greater and greater bits of heaven unto earth by eliminating darkness and illuminating truth. I hope you continue your "war" on darkness and ignorance.
– Patrick
I think the government should listen to your predictions more, as you have a 100% track record that no one else can claim. You both are the real deal… in the psychic world you are my idols! Many psychics and mediums have egos, you both don't. You're spot on every time.
– Gary A., UK
Note: No portions of this newsletter may be copied or reprinted without the permission of Linda and Terry Jamison. Beware of imitators! The Psychic Twins is an official registered trademark. © 2017