CHOOSING LOVE IN THE WAKE OF TERROR
"A bridge of silver wings stretches from the dead ashes of an unforgiving nightmare to the jeweled vision of a life started anew."
― Aberjhani, The River of Winged Dreams
Greetings all friends, fans, and future fanatics spanning the globe,
We had a terrific response to our Ricki Lake Show spot that aired twice this week in many countries! Thank you all for your amazing support and wonderful emails. It makes such a difference when we have a host that is truly behind us and inspired by our work. Thank you, Ricki!
Sadly, we did predict the tragic terror attacks in Boston on not one but FOUR international radio shows in 2012: Wings of Love (two different shows), Beyond the Gate, and The Colette Baron-Reid Show on CBS New Sky. We actually named Russia in connection with attacks on the U.S. this year on Beyond the Gate with hosts David and Cheryll Baker.
The Boston terror plot was in fact our first prophecy given the first week of the year on Wings of Love with host Allie Cheslick 1/4/12 and can be heard here: http://www.youtube.com/watch?v=YAM0CMiFMvg
Our hearts and prayers are with all of the Boston Marathon victims and their families. This was in fact the biggest terror bombing on US soil since 9/11. We are all inspired by the courageous acts of ordinary heroes—emergency personnel, bomb squad members, first responders—and all the bystanders who rushed in to the center of the disaster to help the wounded.
We hope that the events of the Boston terror attacks will serve as a spiritual wake-up call. It is imperative that we move into our hearts, try to develop compassion, and focus on how we each can be of help to uplift others—even in a small way. Try to remember, each day is a gift.
As spiritual teachers, we try to encourage people to view tragic events from a larger perspective, which seems almost impossible in the wake of such devastation. We hope that we all can see these events as an opportunity for healing and human awakening. Ram Dass once said that suffering forces confrontation. At this time, people of the world, especially in America, now need to face their darkest fears, their deepest negativity, on a profound level.
Self-reflection can be very helpful after frightening events such as Boston.
The two of us feel compelled to share our world predictions, even if only as warnings of potential destruction. It is our belief that these prophetic disclosures from an unseen plane come through us so that we can potentially help people avoid pain and suffering. Ironically, the FBI and CIA are now pointing fingers at each other, while we are predicting the events and locations that they are missing.
As human beings, we are awakening from a long, deep sleep. September 11 and Boston give us opportunities to respond nonviolently in order to raise the consciousness and healing on our planet. Of course it will take time to heal, but so many heroes in Boston are showing us that we can each choose love and compassion rather than judgment, blame and revenge.
Here is a quote from our autobiography Separated at Earth:
"In Buddhism, there is a principle called esho funi, which means the oneness of man and his environment. It means that our outer world reflects our innermost feelings and emotions. Native American Indians believe this too, that respecting each other and the planet will reflect in a healthy Earth, and peace among its peoples. A life out of balance will create a planet out of balance. The essence of Gandhi's teachings was fearlessness. In the midst of enormous adversity, he faced everyone, including his enemies, with courage and love."
It is our most sincere hope that 9/11 and Boston allow us all to rediscover our humanity and to choose love instead of fear.
Prayers to all. Stay safe…and we'll see you in the future.
Terry and Linda
The Psychic Twins
NOTE: The Boston Marathon terror bombings on April 15, 2013 (Patriot's Day) killed four people and injured nearly 300. The attack was the biggest terror bombing on U.S. soil since 9/11. The two suspected bombers are brothers from Russia.
HuffPost Live guest appearance cancelled
We had to cancel last week's TV interview on HuffPost Live. Turned out they were setting us up to "try" to make us look bad… Seriously, Huffington Post?
We can't give details at this time, but it did involve a plan to debunk our credibility. Shame on you, HuffPOO! Fortunately, we are psychic and saw that one coming… The Huffington Post owes all of us a public apology. We had told the host Nancy Redd and her producers that we wanted to provide information and help law enforcement track the Boston bombing suspects. Their loss!
---
PUB DAY!
#1 Bestseller Psychic Intelligence launched in China this week! (Chinese language translation)… Fortune cookies for everyone!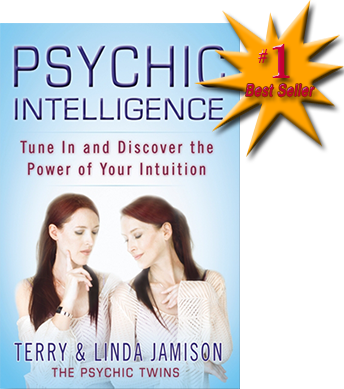 The Psychic Twins' #1 Best Selling book is available for purchase at AMAZON.COM! and a bookstore near you right now! PSYCHIC INTELLIGENCE: Tune In and Discover the Power of Your Intuition by Terry and Linda Jamison, The Psychic TwinsTerry and Linda Jamisons' new book is now available for purchase by clicking here: PSYCHIC INTELLIGENCE: Tune In and Discover the Power of Your Intuition by Terry and Linda Jamison, The Psychic Twins
Note: No portions of this newsletter may be copied or reprinted without the permission of Linda and Terry Jamison. Beware of imitators! The Psychic Twins is an official registered trademark. © 2016
TESTIMONIALS
Psychic Intelligence is a good read – intelligent, yet easy to understand.
– Sylvia C. Browne, author of 40 books
Psychic Intelligence is the best spiritual book published to date!!! (Amazon reviewer)
– Denise O.
Psychic Intelligence should be at the top of Oprah's list for her Book Club 2.0 because it's a groundbreaking book by the world's most documented accurate psychics. Your book gives really practical and helpful advice anyone can use for bettering their lives and improving their situation. Highly recommended.
– Michael V.
Psychic Intelligence By Terry and Linda Jamison is one of the best books I have ever read! We are all psychic, and this book shows you how to tap into it step by step! My 16 year-old daughter is reading it now and she has found out she has more abilities than she thought she had, and has also gained new psychic and spiritual abilities that I've noticed. Terry and Linda have helped awaken more of my child's psychic abilities and I am very grateful of this. I am just simply fascinated! I highly recommend this book for Oprah's Book Club! On a 1 to 10 scale, I say10 hands down and over the top!!
– Danielle D.
Thank you for sharing your wisdom/knowledge with us in the way that you do and helping others not feel "weird" for believing in and having heightened intuition. You help us not feel alone, and you give us the tools to help ourselves. I never expected I could be this blown away! 🙂 I finally understand everyone before me and how they raved about Psychic Intelligence. I feel like a kid in a candy store or something when I talk about it! I'm just excited and thankful! Yay!
– Samantha W.
I have seen and heard of other psychics in this life, but you two are just beyond! Your track record and your help with so many people in this life is amazing. I truly believe God has placed you in this lifetime as a guide for humanity.
– Jean V.
Have just seen your episode of The UneXplained, it took my breath away. First, the reading was heartbreaking, soemphatic, very emotional and yet another proof of your authenticity. After so many years of uncertainty, this family has now complete insight what really happened to their daughter/sister. This shows that everything happens for a reason (even such a terrible crime as murder). It's all about learning our karmic lessons as forgiveness to enlighten our soul. Terry and Linda, you are truly a blessing for humankind.
– Sana M., Serbia
Darling Beloved Mermaids, My head continues to spin around really fast, trying to keep up with you Two! You are so beautiful and incredible… thank you for being alive and showing us the future so clearly!
– Martha L.
Lady Gaga's got nothing on you two. You give the world hope and you do it with such humility and compassion. Hope is something that is sorely needed in the world right now. You're super connected to the Source.
– Judith R., Arizona
You are both such pure souls, real gems… the real deal… you carry the energy that could heal the world. You help the world as we search for the divine, you represent the highest energy — the essence of love. With individuals like you the community around us is blessed. You represent the highest expression of love & consciousness. Bravo, great teachers, BRAVO.
– Delaine S., Texas
Your gifts are so much more important than showmanship, curiosity and money. They hold among them the unique attributes to help usher greater and greater bits of heaven unto earth by eliminating darkness and illuminating truth. I hope you continue your "war" on darkness and ignorance.
– Patrick
I think the government should listen to your predictions more, as you have a 100% track record that no one else can claim. You both are the real deal… in the psychic world you are my idols! Many psychics and mediums have egos, you both don't. You're spot on every time.
– Gary A., UK
---
Twin Hearts – Love and Soul Mate Meditation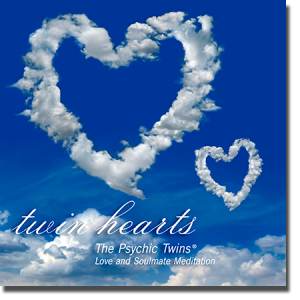 Twin Hearts is available for download or for purchase as a high quality CD, delivered directly to your front door. Spirit wants to assist you in finding your divine soulmate. Twin Hearts is an inspirational meditation CD of original spoken affirmations, written by The Psychic Twins, accompanied by peaceful, healing music.
TESTIMONIALS
OH. MY. GOODNESS!! I could listen to your CD just to feel good everyday! Your voices are so soothing! I ABSO-LUTE-LY LOVE-LOVE IT!! MahaLo!
– Irie S.
I am a huge fan and supporter. After being single for 5 yrs and many dysfunctional relationships, I purchased your "Love" CD. I listened to it every single night. Within a month – I met a wonderful man! I truly believe he is my soul mate and that listening to your tape truly helped my heart open so I could receive true love. With gratitude.
– Karin D. New York
I want that!!! I need to add that to my X-mas list!
– Carlos M.
I bought five of them for friends as a gift — they love them too! …looking forward to your new book!
– Gary A.
This is a great cd! I can feel the shift occurring each time I listen to it…wonderful.
– Rita C.
"You guys are awesome! I listen to your CD every night to help me relax. I never thought that a CD could have such an amazing effect on me! I have had insomnia for several years and finally I found a way to get me to sleep! Will you ever have another CD out? I know Twin Hearts off by heart!"
– Chloe D., Ireland
I got the CD and card you sent me!! Oh my God.. How beautiful. Your new Twin Hearts CD was just amazing. You sound wonderful on the affirmations!! Anyway, thank you a million times over.
– D. Jackson
I got your Soulmate CD "Twin Hearts" in the mail today and put it in my DVD player to listen to it through my entertainment center. I really felt so much better after listening to it! I put it in my CD player on continuous repeat all night long so I can listen to it while I am sleeping. Thank you!
– David
---
Psychic Twins Buzz
"The Psychic Twins are absolutely AMAZING. They are our A-Listers!"
– Ricki Lake, TV host and author, The Ricki Lake Show
Linda and Terry Jamison are women of deep character, passion, confidence and integrity with gifts that display truth and power on every level. They bring to their work so much more than their very evident and proven psychic abilities – they emanate an energy that comes straight from their hearts allowing others to know they are connecting to their unique essence and needs in a truly open, powerful and authentic way.
– Dr. Kristin Whitelaw (Owner at Dr. Kristin Whitelaw Holistic and Transformative Counseling)
When I first learned of the twins, I was a fan. When I read their books they became my heroes, but then I started to listen to them… to really listen. Not only to their predictions, but to them, and what I heard were two beautiful spirits who choose every day to help others, and in doing so I found Kindred Spirits.
– Joanna D.
The Psychic Twins have mind-blowing ESP! They offered us proof on tape of 9/11 and their other amazing world predictions. – ABC Nightline I'm obsessed with The Psychic Twins! Terry and Linda are so spectacular and they've predicted so many insanely accurate things. Their new book Psychic Intelligence is a classic!
– Colette Baron-Reid, author of The Map
You two are the most accurate with predictions and I love both of you….you both are a shining light in this world!
– Caitlyn A.
I saw you on The View and I am extremely amazed at the accomplishments that the two of you have achieved!
– Patrick M.
Fire all of homeland security and hire Terry and Linda Jamison!
– Larry
I have watched every show you two have been on. You two have such a wonderful spirit and great sense of humor. Thank you for your beauty, grace and spirit.
– Kathleen L.
The charisma and power you two have is just unbelievable, and a confirmation of your being genuine and sincere. – Olivier N., England I am a HUGE FAN!! I love your passion. I also love that you are really out there helping people and making a difference. You do a phenomenal job!
– Allie Cheslick, host "Wings of Love" radio
Note: No portions of this newsletter may be copied or reprinted without the permission of Linda and Terry Jamison. Beware of imitators! The Psychic Twins is an official registered trademark. © 2016
READINGS WITH THE PSYCHIC TWINS Due to an overwhelming demand for The Psychic Twins' services, they have closed their waiting list for readings for the time being. Even though they cannot respond to the thousands of emails they receive on a daily basis, no offense is ever intended. All emails are greatly appreciated.
---
THE PSYCHIC TWINS' NEW ONLINE STORE!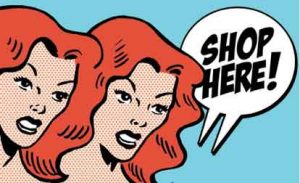 Our original T-shirts, tote bags, cell cases, mugs, and more!
---