TEEN VOGUE SAYS:
THE PSYCHIC TWINS ARE TOP YOUTUBERS TO WATCH IN 2016!
Read the story here: http://www.teenvogue.com/story/youtubers-to-watch-in-2016
Greetings to all our Friends, Fans, and Future Fanatics spanning the globe!
OUR NEW YOUTUBE CHANNEL 'THE PSYCHIC TWINS' LAUNCHED JANUARY 2, AND IT'S THE FASTEST-GROWING CHANNEL IN HISTORY!! Epic celebrity collabs, world predictions and more…
A big thanks to all of you for making us the fastest-growing debut YouTube channel ever! (We've hit a quarter million subscribers already). We teamed up with Shane Dawson, YouTube celebrity extraordinaire, to bring you a weekly show that you won't want to miss.
This past year leading up to our YouTube Channel launch has been incredibly challenging in every way. For 6 months we had a major ceiling leak that kept us up nights bailing water out with buckets. Then we came down with a bad flu and Linda lost her voice for weeks over the holidays. We had major computer problems and plumbing issues… On top of all this, we managed to film a dozen celebrity readings (YouTube collabs) in our apartment! Don't ask us how we got through it. It's all thanks to our faith!
When our channel took off, all the crazy disasters started to make sense…but that didn't make it any easier to deal with while it was happening. Know that when you make a big leap in faith, sometimes the obstacles that come up are overwhelming—mentally, physically and emotionally. Having a regular spiritual practice like meditation or chanting can get you through the tough patches. A wise man once said "The darkest nights produce the brightest stars." That is so true!!! No matter how great the difficulties you are facing, you are so much stronger than you think. Choose to see the ordeal as an opportunity to deepen your faith. Keep envisioning the positive outcome you desire, and how it feels emotionally to have a successful result now. Winter always turns into spring!
We feel very lucky to be a part of the new exploding YouTube movement. It gives us a chance to connect with people of all ages about paranormal experiences and the spirit realm in a unique and comedic way. Major studios are approaching us from all over the world, and it's been incredible! This is a life-long dream come true for us. Stay tuned for updates!
Stay safe if you are in this record-breaking monster blizzard of 2016…If you are snow-bound, you may enjoy reading our new interviews in Teen Vogue and The Hollywood Reporter that came out this month! (links below)
And we'll see you in the future…
Terry and Linda
The Psychic Twins
---
THE PSYCHIC TWINS' NEW ONLINE STORE!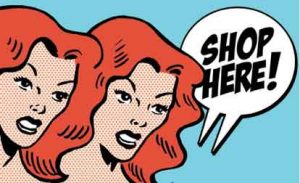 Our original T-shirts, tote bags, cell cases, mugs, and more!
---
NEW!
THE PSYCHIC TWINS INTERVIEW IN THE HOLLYWOOD REPORTER!
"Psychic Twins Terry and Linda Jamison have become a household name
times two…" (To read more, click on link below)
http://www.hollywoodreporter.com/news/what-psychic-twins-think-is-852418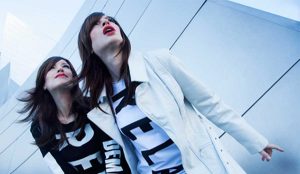 THE PSYCHIC TWINS YOUTUBE CHANNEL: SUBSCRIBE HERE! NEW VIDEOS UPLOAD EVERY FRIDAY.
https://www.youtube.com/channel/UCJZSVCGZksXJWlQECPJvk1A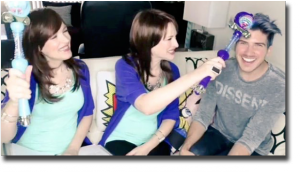 Terry and Linda are Joey Graceffa's Psychic Twin Fairy Godmothers!
What were his 3 wishes?
Send Futurescope to a friend – We encourage you to forward this newsletter to those seeking positive change and inspiration. Simply click here to send this page to a friend.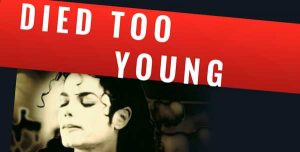 READERS ARE RAVING ABOUT DIED TOO YOUNG!
LOVE IT!! NOSTRADAMUS IN STILETTOS HAVE DONE IT AGAIN!
This book is absolutely brilliant on so many levels! The Psychic Twins have done it again… they are simply beyond amazing!
– Lola B. Braut
Spectacular Reading – 5 Stars!
Absolutely loved reading this book. Couldn't put it down! Can't wait for the next one to come out.
– Tina D.
Wow! My mind is blown reading Died Too Young!
The chapter on Natalie Wood is something I have suspected. It is BEYOND amazing!!!!!! Well done. #truth
– Suzanne S.
One million stars!!!
– Meghan C.
Not enough stars in the skies to rate this one….
Another extraordinary gift has been given us by Terry and Linda Jamison with this wonderful book! The Psychic Twins have provided insights and and answers to so many mysteries which have long haunted us. Their compassionate dialogue, especially with those stars who endured unspeakable emotional and physical abuse while being held prisoner in the spotlight of fame, was especially moving… giving voice to their suffering and meaning to their incomplete lives. This is an inspiration to all of us left to ponder the meaning of fame, and life after death. We have been blessed with two angels that can pierce the veil of illusion separating us from our loved ones passing before us… This book is a rare enchantment to be treasured, inspiring us with the beauty of the higher dimensions beyond life and the marvels in life after death.
– Martica L.
THIS BOOK IS PURE MAGIC!!
– Kristyn B.
Amazing book! 5 Stars!
Terry & Linda did a phenomenal job channeling all of these beautiful souls. I was shedding tears as I read these amazing messages of wisdom. A beacon of light & truth!
– Elena F.
Amazing and life altering read… "Died Too Young" is helping me to look at my life with a new vigor.
– Jason H., Perth, Australia
Follow us on Facebook and Twitter for news and our prediction updates! (The Psychic Twins is our FB fan page)
Send Futurescope to a friend – We encourage you to forward this newsletter to those seeking positive change and inspiration. Simply click here to send this page to a friend.