DOZENS OF YOUTUBER PREDICTIONS THAT HAPPENED!!!
Greetings all our Friends, Fans, and Future Fanatics spanning the globe…
Thanks for helping our YouTube Channel become the fastest-growing of all time! We now have nearly 400,000 subscribers in two months. So many of the predictions we made for YouTube celebrities have happened, so we thought we would list them and share them with you here. (There may be others that we haven't heard about yet). Enjoy…and stay tuned for tons more vids and collabs, including a Ghostbuster series with YouTube celebrities!
---
Our first video with Shane Dawson
(Aired 12/1/15)
Paris Attacks Mastermind captured in Belgium shootout 3/18/16 (Note: We also predicted Belgium terror in our Hollywood Reporter interview, January 2016 issue. This is the most significant capture in the history of this war)
New boyfriend by February (described him)
New book! ("It Gets Worse" to be released in July)
Terror plots in Belgium, France, and Germany
Terror plots in New York, D.C. and L.A.
Accident with broken leg (predicted on his podcast 5/15)
Film roles
WE AIN'T AFRAID OF NO GHOSTS!
Ghost hunting video: The Psychic Twins described and cleared the 3 spirits haunting Shane's home, even giving the name "John" and his long illness, cancer, which was confirmed by Shane.
Mediumship with his relatives and mom's relatives (including names and how each of them passed. Shane did not know this information, and his mom had to verify it – on Shane & Friends podcast, 2015)
Here is a link to our Ghostbusting vid with Shane Dawson (2 parts!)
GHOST HUNTING IN MY HOUSE with THE PSYCHIC TWINS (Part 1)
GHOST HUNTING WITH THE PSYCHIC TWINS (Part 2)
PewDiePie:
On January 16, this popular YouTuber announced he was starting a new network with Disney called Revelmode.
Alexis G. Zall and Meg DeAngelis collab
(recorded October 2015)
Paris attacks – 2 weeks before the attacks we sternly warned them both not to travel to Paris. This was on tape.
Alexis: New film is shooting in New York now! (Starting February 15th – We predicted her landing a film role soon)
Meg: Co-starring in new YouTube Red movie 'Dance Camp'
(We predicted she would be getting a film role soon)
Jennxpenn (Jenn McAllister):
New boyfriend: Tall, slim, dark haired YouTuber in a jacuzzi (Andrew) One month later Jenn posted a picture of herself and Andrew in a jacuzzi!
New comedy web series on YouTube Red entitled 'Foursome' (We saw a new web series coming for her!)
Channeled her dog Micky who she told us passed several years ago.
We predicted she would be travelling to NYC and she said she was going that week and wants to live there!
Trisha Paytas:
Got a one-woman show and tour just after we predicted she would.
New boyfriend Sean
We told her she would start dancing again. (She has been doing a lot of dancing since we predicted this, and has posted several videos showing her dancing with her new boyfriend)
Recording new music (new EP coming out soon!)
Channeled her ex boyfriend who passed from suicide
Best friend Jeff diagnosed with lung cancer (She never told anyone about this)
Matthew Lush:
Got the name "Frank" (Matthew called 15 minutes after he left our house… his mom's cousin Frank was severely injured in a horrible car crash while we were giving Matt the reading. Matthew confirmed this in his vlog the same day)…We wish him the best!
Mentioned the name "Frank Sinatra," who passed unexpectedly one week after our video collab aired on YouTube. (He was the son of Frank Sinatra)
Also, Matt did meet the hot Latino we predicted! On his road trip to Seattle a few weeks later.
Lisa Schwartz ("Lisbug"):
Got the name "Edward" and she later found out that Edward was her grandfather whom she never knew.
Drew Monson:
Got his grandmother Jackie who passed.
Also, we told him he had a Native American spirit guide and Drew said his ancestry is part Native American.
Sarah Rush:
Her new podcast show started 2/3/16
A tree would be planted in her Dad's honor – She later reported that friends in Israel had done this for her father!
Jessie Buttafuoco (podcast):
Dating men now!
Congrats to all our YouTuber friends!
Stay safe…and we'll see you in the future…
Terry and Linda
The Psychic Twins
dev.psychictwins.com
---
THE PSYCHIC TWINS' NEW ONLINE STORE!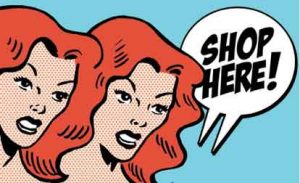 Our original T-shirts, tote bags, cell cases, mugs, and more!
---