COMING NOVEMBER! OUR NEW ZODIAC LINE OF CLOTHING, JEWELRY AND GEAR!!!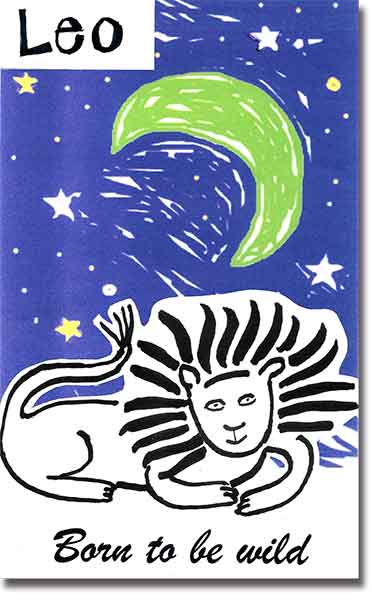 Greetings to all our Friends, Fans, and Future Fanatics spanning the globe!
Welcome all new subscribers…We're so excited to announce our new merch designs coming out in November! We have designed an entire line of ZODIAC clothing and jewelry for all of you!!! These will be available within the next few weeks on The Psychic Twins Shop, so you can grab something for all the Capricorns, Geminis and other zodiac signs in your life. They make great holiday gifts for your family and friends. Watch our YouTube Channel for the official launch date! We have new celebrity collabs going up in November so stay tuned…
Be sure to share this newsletter and help us reach one million YOUTUBE subscribers by the end of the year!
We also have a brand new website! Check us out at dev.psychictwins.com.
Thanks for your great support this year. We especially love the wonderful fan art, this is by the talented Jennii Nguyen: "Mermaid Queens."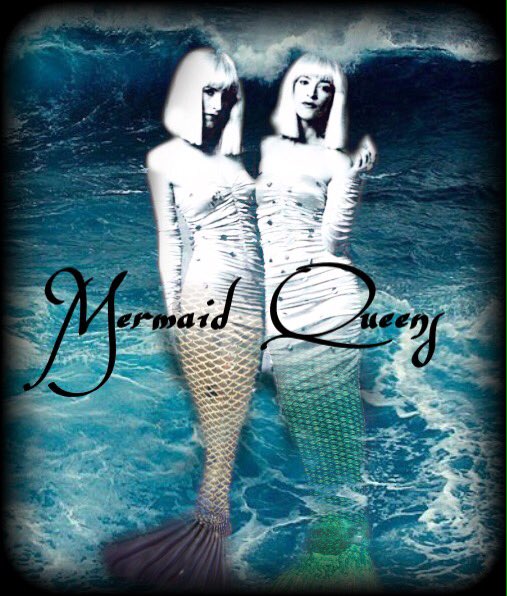 HAPPY HALLOWEEN, guys! And we'll see you in the future…
Terry and Linda
The Psychic Twins
Note: No portions of this newsletter may be copied or reprinted without the permission of Linda and Terry Jamison. Beware of imitators! The Psychic Twins is an official registered trademark. © 2016
**As a side note here, we have many people online who are making up lies about our predictions, because they are afraid of what they don't understand. We share this not as a victory lap, but to correct misunderstandings and in our own defense. We appreciate all of you who have helped to defend our work over the years, and who have contradicted the false stories about us online. We NEVER doctor our radio shows or YouTube videos, or edit them after they air. That is why we make our predictions on the shows that other people own.
---
The Psychic Twins' interview with SUPERMODELS UNLIMITED on newsstands now!
Click here to view the article: "The Power of 2" (September 2016 issue)
---
THE PSYCHIC TWINS LAUNCH THEIR NEW ONLINE STORE!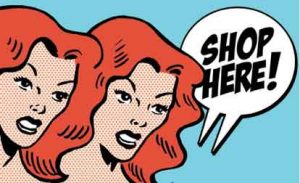 Our original T-shirts, tote bags, cell cases, mugs, and more!
---
YOUTUBE CHANNEL: HELP US GET TO ONE MILLION SUBSCRIBERS!
Thanks for helping our new YouTube Channel become the fastest-growing of all time! We now have nearly 500,000 subscribers in just 6 months.
'The Psychic Twins' YouTube Channel – Click here to subscribe!
https://www.youtube.com/channel/UCJZSVCGZksXJWlQECPJvk1A
---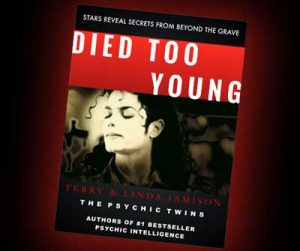 LOVE IT!! NOSTRADAMUS IN STILETTOS HAVE DONE IT AGAIN!
This book is absolutely brilliant on so many levels! The Psychic Twins have done it again… they are simply beyond amazing!
– Lola B. Braut
Spectacular Reading – 5 Stars!
Absolutely loved reading this book. Couldn't put it down! Can't wait for the next one to come out.
– Tina D.
Wow! My mind is blown reading Died Too Young!
The chapter on Natalie Wood is something I have suspected. It is BEYOND amazing!!!!!! Well done. #truth
– Suzanne S.
One million stars!!!
– Meghan C.
Not enough stars in the skies to rate this one….
Another extraordinary gift has been given us by Terry and Linda Jamison with this wonderful book! The Psychic Twins have provided insights and and answers to so many mysteries which have long haunted us. Their compassionate dialogue, especially with those stars who endured unspeakable emotional and physical abuse while being held prisoner in the spotlight of fame, was especially moving… giving voice to their suffering and meaning to their incomplete lives. This is an inspiration to all of us left to ponder the meaning of fame, and life after death. We have been blessed with two angels that can pierce the veil of illusion separating us from our loved ones passing before us… This book is a rare enchantment to be treasured, inspiring us with the beauty of the higher dimensions beyond life and the marvels in life after death.
– Martica L.
THIS BOOK IS PURE MAGIC!!
– Kristyn B.
Amazing book! 5 Stars!
Terry & Linda did a phenomenal job channeling all of these beautiful souls. I was shedding tears as I read these amazing messages of wisdom. A beacon of light & truth!
– Elena F.
Amazing and life altering read… "Died Too Young" is helping me to look at my life with a new vigor.
– Jason H., Perth, Australia
---
Note: No portions of this newsletter may be copied or reprinted without the permission of Linda and Terry Jamison. Beware of imitators! The Psychic Twins is an official registered trademark. © 2016