THE PSYCHIC TWINS' 75 BIGGEST PREDICTIONS FOR 2017 THAT HAPPENED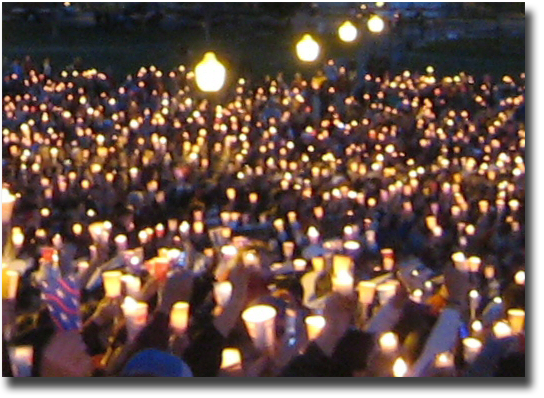 We have decided to put together our most major predictions we made for 2017 that have happened already. Most of these were made in our Futurescope newsletter that came out in January 2017, and others have been made in our past radio predictions shows as well as videos that we published in recent years. We will be adding this list to our website very soon.
To reiterate, we feel that the work we do is important and serves as a warning or harbinger of things to watch out for. In the coming years, we see more movement toward togetherness, collaboration, harmony, optimism, and more feminine qualities expressed in leadership. More women will be gaining power politically, and in corporate culture.
Predictions of terror and natural disasters serve as a guide to take notice of places and circumstances that need more love and light during certain times.
Love is such an important lesson on our planet at this tumultuous time. It's the most significant challenge we're facing as individuals and as a collective. We each have more power than we think to offer healing and protection to the world.
"You must stand up for truth, write about it, speak about it, and light up the earth! Light up the earth with your power, love and kindness."
– Linda and Terry Jamison, Died Too Young
WOMEN'S MARCH
RECORD BREAKER! 4.8 million women marched globally for justice and equal rights (1/21/17)
On January 21st, the day after President Trump was inaugurated into office, there was an unprecedented Women's March in 674 cities worldwide. 4.8 million women marched in support of women's rights, equality, and other causes. The purpose was to increase awareness of immigration reform, health care reform, LGBTQ rights, racial justice, religious freedom and workers' rights. It was also the largest single-day demonstration in U.S. history.
(Predicted on Beyond the Gate Radio 2015 show)
TERROR AND LONE WOLF ATTACKS
Las Vegas Mass Shooting was Biggest in US history by a Lone Wolf 59 dead, 546 wounded in "unprecedented rampage" by a lone wolf shooter. The deadliest mass shooting by an individual in US history occurred at Mandalay Bay Hotel. 10/1/17 (Also predicted on Beyond the Gate radio show 1/20/13)
On the night of October 1, 2017, a gunman opened fire on a crowd of concertgoers at the Route 91 Harvest Music Festival on the Las Vegas Strip in Nevada. 64-year-old Stephen Paddock fired hundreds of rifle rounds from his suite on the 32nd floor of the Mandalay Bay hotel. The shooter had an arsenal of 23 weapons in his hotel room.
Terror attack in London: Vehicle-as-weapon terror and knife attack was worst in 12 years. 5 people were killed at Westminster. ISIS responsible. 3/22/17
Terror attack at London Parliament and London Bridge kills 8, 48 wounded (6/3/17) when an attacker plowed a car through crowds in central London before attempting to storm the Houses of Parliament. Police believe this was an act of Islamist-inspired terrorism.
The assailant fatally stabbed a police officer on the grounds of Parliament after plowing a car onto the crowded sidewalks nearby.
UK Terror: Manchester Arena terror attack at an Ariana Grande concert. Suicide bomber kills 23 people, injures 250 (ISIS inspired) 5/22/17
London subway bomb wounds 29 at Parsons Green Station. ISIS claims responsibility – 9/15/17
Spain, Barcelona attack: 16 dead,120 injured after massive van plows into crowd. ISIS claims responsibility. First ISIS attack in Spain's history. 8/17/17
Spain, Cambrils: 5 terrorists killed in terror raid near Barcelona, 1 victim killed, second attack foiled. Terrorists planned much larger attack with bombs. 8/18/17
Sarin gas attack in Syria: 100 dead, 400 injured 4/4/17
Canada mass shooting: 6 killed, 8 wounded at mass shooting in Quebec City mosque 1/29/17
Ohio mass shooting: Cincinnati's Cameo Nightclub – 16 shot, 1 dead by lone shooter; manhunt 3/25/17
Tennessee mass church shooting: 1 dead and 8 wounded, suspect in custody in Nashville – 9/24/17
Egypt terror: Two Coptic churches bombed by ISIS, killing 47 on Palm Sunday. 4/9/17
Egypt: 26 soldiers killed in Sinai attack suicide bombing 7/7/17
Egypt: 6 shot, 2 killed on resort beach – 7/14/17
Sweden terror: 5 dead, 15 injured after truck plows into pedestrians
in Stockholm 4/7/17
Finland: 2 dead after stabbing rampage, 8 wounded – 8/18/17 (predicted 12/1/15 in our collab video with Shane Dawson)
St. Petersburg, Russia: 14 dead, dozens injured when bomb explodes on Russia subway train on 4/3/17
China Terror – 7 killed, 60 injured at daycare in Beijing – 6/15/17
Australia Terror: Car plows into crowd at mall in Melbourne, 4 dead and 20 injured 1/20/17
Sydney: Police foil plot to bring down plane with IED; 4 brothers arrested in twin terror plots. Sophisticated ISIS plots foiled – 7/29/17
Jakarta, Philippines terror attack: 2 explosions at popular British resort, 13 ISIS terrorists killed. 78 hostages taken, martial law declared. 5/24/17
Manila, Philippines: 37 dead, 70 wounded after gunman attacks casino in resort. ISIS claimed responsibility – 5/31/17
Africa, Mali: 77 dead, 120 wounded in terror blast. 6/14/17
Africa: Mogadishu, Somali truck bomb kills 300+ and wounds 300 more in "deadliest attack in decades." 10/15/17
RECORD-BREAKING NATURAL DISASTERS
Killer tornadoes wreak havoc in 5 states: 22 dead in 2 days
Cat 4 and 5 Hurricanes Harvey, Irma, and Maria
HURRICANE HARVEY: "THE 800-YEAR FLOOD"
Historic Hurricane Harvey struck on August 24, 2017. It is called "The 800 Year Flood," and was the worst and costliest disaster in US history, equal to the combined costs of Hurricanes Katrina and Sandy. The estimated could cost $160 Billion.
Hurricane Harvey was the first major hurricane to make landfall in the US since Wilma in 2005, ending a record 12-year drought.
Harvey broke records, with 55 inches of storm rainfall in just a couple of days.
Thousands were evacuated and many are still in shelters.
Harvey's massive flooding has displaced tens of thousands of people and destroyed over 100,000 homes across southeast Texas and Louisiana.
HURRICANE IRMA: STRONGEST STORM EVER RECORDED IN THE ATLANTIC
Hurricane Irma was a deadly, catastrophic hurricane, the strongest ever recorded in the Atlantic. If there was a CAT 6, this would be it.
Irma was the first Category 5 hurricane to strike the Leeward Islands, followed by Hurricane Maria which formed on September 16th. Irma was also the most intense Atlantic hurricane to strike the United States since Katrina in 2005, and the first major hurricane to make landfall in Florida since Wilma in 2005.
Then, Hurricane Maria made landfall in Dominica as a Category 5 hurricane. Puerto Rico was also devastated, and 100% of the country lost power. Maria was the strongest to hit the territory since 1928. Thousands are homeless and in need of aid.
Hurricane Maria was regarded as the worst natural disaster on record in Dominica, and caused catastrophic damage and a major humanitarian crisis in Puerto Rico. Maria was the tenth most intense Atlantic hurricane on record.
QUICK FACTS ABOUT HURRICANE IRMA:
– Sadly, Irma and Maria caused at least 450 deaths, according to some reports.
– Longest Category 5 hurricane since satellite tracking began
– No storm on record has maintained winds 185 mph or above for as long as Irma
– Largest mass evacuation in the history of the Bahamas, and the largest in Florida history
– Caused record-setting flooding in Jacksonville, Florida
– 19 million were without power in Florida and neighboring states.
On September 6, Irma reached 185 mph, and the strongest worldwide in 2017 in terms of wind speed. Irma exploded to Category 5 status for a second time while making landfall in Cuba. After dropping to Category 3 intensity due to land interaction, the storm re-intensified to Category 4 as it crossed warm waters between Cuba and Florida. Irma making landfall on Cudjoe Key it made a second Florida landfall on Marco Island.
The storm caused catastrophic damage in Barbuda, Saint Barthélemy, Saint Martin, Anguilla, and the Virgin Islands as a Category 5 hurricane. Sadly, Irma and Maria caused at least 200 deaths.
2 Mexico earthquakes "biggest in a century" – 8.2 magnitude quake killed 96, injured hundreds on 9/7/17. The most destructive Mexico City earthquake struck 12 days later on September 19, 2017. It was a magnitude 7.1 quake. More than 400 people were killed and scores of buildings collapsed. More than 6,000 were injured, thousands rescued. 9/19/17
California: 17 wildfires, deadliest and most destructive in history 42 were killed, 6,000 structures destroyed, 300,000 acres burned – week of 10/12/17
Largest fire in Los Angeles history: La Tuna fire in Burbank, California leads to mass evacuations on 9/2/17
HUGE CYBERATTACKS
WikiLeaks Vault7 biggest hack ever – WikiLeaks posts trove of CIA documents detailing mass hacking 3/10/17
Equifax breach exposes 143 million people to identity theft – cost reaches $300M, one of largest in history 9/7/17
'WannaCry' biggest cyberattack of its kind in history – Massive global Ransomware attack affected 150 countries, and targeted major companies including FedEx, government offices, hospitals, causing chaos.
The massive wave of cyberattacks across the globe seized control of computers until the victims paid a ransom. 5/14/17
Disney films held for ransom: Cyberhackers steal Pirates of the Caribbean: Dead Men Tell No Tales. 5/14/17
Power grid attack: Dragonfly 2.0 by Russia: massive cyberattack of companies that supply power to US power grid – 9/6/17
HBO – massive cyberhack 7/31/17 Game of Thrones script leaked, 7 times worse than Sony cyberattack of 2015 – 7/31/17
DOW soars, hits 23,000 for first time in history 10/17/17
Harvey Weinstein Hollywood sex scandal, 50+ women claim assaults in US and UK – In October 2017, The New York Times and The New Yorker reported that dozens of women had accused mogul Harvey Weinstein, head of Miramax Films and a prominent American film producer, of sexual harassment, sexual assault and rape.
HEALTH AND MEDICAL BREAKTHROUGHS
Blindness/ Vision Breakthrough: New "SMILE" eye surgery corrects myopia – 5/31/17
Gene therapy could restore sight for hereditary blindness – 10/11/17
Cancer Breakthrough: Leukemia, 2 babies cured by genetically modified cells – 1/27/17
Breakthrough Gene Therapy for child cancer, leukemia – 7/12/17
New Gene Therapy CAR-T non-Hodgkins Lymphoma Breakthrough – 3/31/17
Cancer: Blood test finds cancer before symptoms start – 8/17/17
New way to treat Cancer using immunotherapy – 6/28/17
Multiple Schlerosis (MS) Breakthrough: new drug cuts relapses in half – 3/29/17
Heart Disease: New wonder drug hailed as biggest breakthrough against heart disease and cancer – 8/31/17
Heart Disease Breakthrough: New heart treatment is biggest breakthrough since statins. US researchers find heart attack survivors given anti-inflammatory injections have fewer future episodes and lower cancer risk
AIDS/ HIV Breakthrough: 5 HIV patients virus-free with no need for daily drugs. Vaccine plus a cancer drug – 2/23/17
HIV Breakthrough: Child born with HIV cured after a year of treatment – 7/27/17
HIV: New antibody attacks 99% of HIV strains – 9/22/17
Autism Breakthrough: Stem cells offer hope for Autism – 70% of children showed improvement – 4/5/17
Autism: Marijuana may be miracle treatment (Cannibis CBD compound) – 4/25/17
ADHD: Children with ADHD move twice as much when learning, brain tests show – 10/10/17
Arthritis Breakthrough "Gamechanger" – New arthritis treatment, synthetic cartilage for joints, shows promise – 3/13/17
GOVERNMENT AND POLITICAL SCANDALS
Trump's Travel Ban on citizens from 7 Muslim countries causes chaos, global backlash and lawsuits (1/27/17)
Virginia riots during White Nationalist rally, terror attack in Charlottesville – 1 woman dead and 19 injured when car intentionally plowed into crowd. 8/13/17
President Trump claims former President Obama wiretapped Trump Tower with no evidence to support accusation – 3/4/17
Trump rolls back environmental protections – 3/27/17
18 states, DC files lawsuits against Trump over Obamacare insurer subsidies – 10/16/17
DOJ appoints ex-FBI director Robert Mueller as Special Prosecutor for Russia investigation – 5/17/17
Special council investigates Trump for obstruction of justice – 6/14/17
Trump's son-in-law Jared Kushner investigated for secret backchannel line of communication with Kremlin – 5/26/17
Trump team met with Russian lawyer during campaign. Donald Trump, Jr. was told in email of Russian efforts to aid Trump campaign by revealing dirt on Hillary Clinton – 7/10/17
9th Circuit Court rules against Trump's Travel Ban again – 6/12/17
Obamacare repeal bill fails in Senate vote, another blow to GOP – 7/26/17
Trump tweets that transgender people won't be able to serve "in any capacity" in US military – 7/26/17
Anthony Scaramucci out as White House communications director, 10 days after he is hired. General Kelly gives him the boot – 7/31/17
Trump dictated misleading statement about nature of son Donald's meeting with Russians during campaign. Trump now directly implicated in coverup of Russian scandal, accused of "intentionally deceiving the American people." – 8/1/17
Mueller convenes grand jury in Russia investigation, will seek indictments. 8/3/17
Steve Bannon forced to resign as WH Chief Strategist – 8/18/17
16 members of WH Arts Committee resign to protest Trump – 8/18/17
8 of Trump's cyber-cecurity advisors resign, warning of "insufficient attention to growing cyber threats." – 8/29/17
More than a dozen states sue Trump administration over DACA repeal. – 9/6/17
We send our thoughts and prayers to all in the disaster zones.
Here are our World Predictions for 2017-18 (posted in January of 2017). Most of them have happened.
https://psychictwins.com/psychic-twins-world-predictions-2017-2018/
Stay safe…and we'll see you in the future.
Terry and Linda
The Psychic Twins
www.psychictwins.com
Note: No portions of this newsletter may be copied or reprinted without the permission of Linda and Terry Jamison. Beware of imitators! The Psychic Twins is an official registered trademark. © 2017
---

5-STAR REVIEWS FOR YOU CAN'T FIX STUPID!
omg IT'S LIT!!! I love my moms! GO GET THEIR SHOOK BOOK NOW!!!!!! You Can't Fix Stupid!
– Shane Dawson, New York Times bestselling author of It Gets Worse

5.0 out of 5 stars is how funny they are
– The Write One
A lot of people may know The Psychic Twins courtesy of all the appearances and predictions they've made over the years. What people may not realize, though, is how funny they are. And that's what makes this book so entertaining. It's not a "prediction" book. It's a lifestyle book, with the Twins tackling all kinds of quirky human behavior and offering advice on how to improve on it. Every step of the way, there's a joke about stupid boyfriends or ignorant landlords or…well… just about anyone or anything that makes life the weird thing that it is. If you're tired of psychics taking the idea of being psychic too seriously, but still want to hear what psychics have to say, then You Can't Fix Stupid is your dream book.
You Can't Fix Stupid: funny, insightful, revealing, ultimately helpful book! Aware is the new strong.
– Janet Boyer, Amazon Hall of Fame Reviewer
An essential read!! You Can't Fix Stupid is another brilliant book by the Psychic Twins!
– T. Jones
I am so happy for you both! Great title! Love the book. 100 Stars!!! Thank you!
– Jill Dahne Levy, Celebrity Psychic
This was a great read. Loved it so much. Very funny! I recommend it to everyone. I believe in the Psychic Twins 100%. I would give it more stars if I could. Love you ladies.
– Diane Smith
YES YES YES! 5 STARS!! This is a MUST READ! You Can't Fix Stupid… but the twins might help you be a little less dumb!
– Amaris W.G.
Just bought your book on Kindle. It's really witty and full of wise advice. It takes you to a broader audience than you normally have because even if people aren't so receptive to your psychic work… unlike me and most of the people who come to your facebook page, it would he hilarious to almost anyone. It's a bit of a cautionary tale full of wit and wisdom. Fast-paced too, and a very fun read based on crazy things people have actually done. I have already recommended it to 3 people who hadn't heard of it. You have really hit the right voice for current life challenges. Congratulations!
– Laura Lynne Crandall
It's fabulous. I've read all 4 of their books now and experienced their talents and friendship first hand. The Psychic Twins are the real deal!
– Amy Scobee
I couldn't stop reading!
The Psychic Twins are telling big truths with a great sense of humor… Surrounded by stupidity can be very frustrating. Infinite wisdom breaks through numbness, brings light into the darkness. Psychic intelligence is needed these days. Please read, you'll enjoy it!
– Gaston
YOUTUBE CHANNEL: HELP US GET TO ONE MILLION SUBSCRIBERS!
Thanks for helping our new YouTube Channel become the fastest-growing of all time! We now have nearly 710,000 subscribers!
'The Psychic Twins' YouTube Channel – Click here to subscribe!
https://www.youtube.com/channel/UCJZSVCGZksXJWlQECPJvk1A
The Psychic Twins return to Shane and Friends, with Drew and Jess! Listen now:
https://soundcloud.com/shaneandfriends/episode-112-psychic-twins
NEW collab video with Shane Dawson! "MANDELA EFFECTS AND ALTERNATE REALITIES"
https://www.youtube.com/watch?v=m2PR2TR18-s&lc=z12ezfig3qehyl1b204ce1faulqzxzkwntk0k.1496871829868349
---
**As a side note here, we have many people online who are making up lies about our predictions, because they are afraid of what they don't understand. We share this not as a victory lap, but to correct misunderstandings and in our own defense. We appreciate all of you who have helped to defend our work over the years, and who have contradicted the false stories about us online. We NEVER doctor our radio shows or YouTube videos, or edit them after they air. That is why we make our predictions on the shows that other people own.
---
CHECK OUT OUR NEW ZODIAC LINE OF CLOTHING, JEWELRY AND GEAR!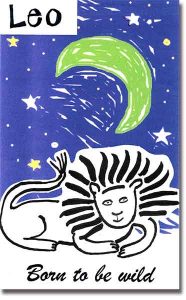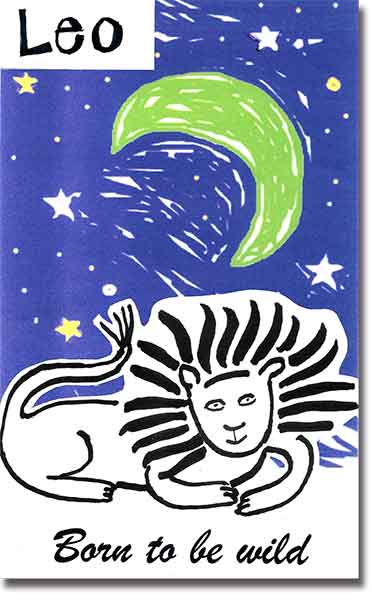 Welcome all new subscribers…We're so excited to announce our new merch designs coming out in November! We have designed an entire line of ZODIAC clothing and jewelry for all of you!!! These will be available within the next few weeks on The Psychic Twins Shop, so you can grab something for all the Capricorns, Geminis and other zodiac signs in your life. They make great holiday gifts for your family and friends. Watch our YouTube Channel for the official launch date! We have new celebrity collabs going up soon, so stay tuned…
Be sure to share this newsletter and help us reach one million YOUTUBE subscribers by the end of the year!
We also have a brand new website! Check us out at psychictwins.com.
---
THE PSYCHIC TWINS' NEW ONLINE STORE!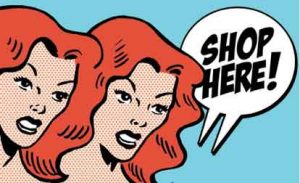 Our original T-shirts, tote bags, cell cases, mugs, and more!
---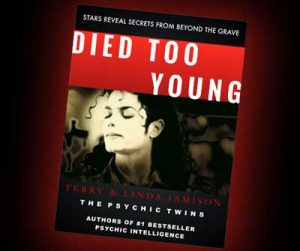 LOVE IT!! NOSTRADAMUS IN STILETTOS HAVE DONE IT AGAIN!
This book is absolutely brilliant on so many levels! The Psychic Twins have done it again… they are simply beyond amazing!
– Lola B. Braut
Spectacular Reading – 5 Stars!
Absolutely loved reading this book. Couldn't put it down! Can't wait for the next one to come out.
– Tina D.
Wow! My mind is blown reading Died Too Young!
The chapter on Natalie Wood is something I have suspected. It is BEYOND amazing!!!!!! Well done. #truth
– Suzanne S.
One million stars!!!
– Meghan C.
Not enough stars in the skies to rate this one….
Another extraordinary gift has been given us by Terry and Linda Jamison with this wonderful book! The Psychic Twins have provided insights and and answers to so many mysteries which have long haunted us. Their compassionate dialogue, especially with those stars who endured unspeakable emotional and physical abuse while being held prisoner in the spotlight of fame, was especially moving… giving voice to their suffering and meaning to their incomplete lives. This is an inspiration to all of us left to ponder the meaning of fame, and life after death. We have been blessed with two angels that can pierce the veil of illusion separating us from our loved ones passing before us… This book is a rare enchantment to be treasured, inspiring us with the beauty of the higher dimensions beyond life and the marvels in life after death.
– Martica L.
THIS BOOK IS PURE MAGIC!!
– Kristyn B.
Amazing book! 5 Stars!
Terry & Linda did a phenomenal job channeling all of these beautiful souls. I was shedding tears as I read these amazing messages of wisdom. A beacon of light & truth!
– Elena F.
Amazing and life altering read… "Died Too Young" is helping me to look at my life with a new vigor.
– Jason H., Perth, Australia
---
Twin Hearts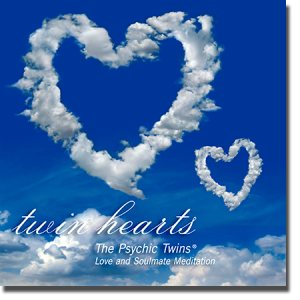 "Twin Hearts" Meditation CD –
Twin Hearts is available for download or for purchase as a high quality CD, delivered directly to your front door. Spirit wants to assist you in finding your divine soulmate. Twin Hearts is an inspirational meditation CD of original spoken affirmations, written by The Psychic Twins, accompanied by peaceful, healing music. These empowering words will help you to relax, shift your beliefs regarding relationships, and open your heart to receive love.
Twin Hearts Buzz
OH. MY. GOODNESS!! I could listen to your CD just to feel good everyday! Your voices are so soothing! I ABSO-LUTE-LY LOVE-LOVE IT!! MahaLo! ♥
– Irie S.
I am a huge fan and supporter. After being single for 5 yrs and many dysfunctional relationships, I purchased your "Love" CD. I listened to it every single night. Within a month – I met a wonderful man! I truly believe he is my soul mate and that listening to your tape truly helped my heart open so I could receive true love.
With gratitude,
– Karin D. New York
I want that!!! I need to add that to my X-mas list!
– Carlos M.
I bought five of them for friends as a gift — they love them too! …looking forward to your new book!
– Gary A.
This is a great cd! I can feel the shift occurring each time I listen to it…wonderful.
– Rita C.
"You guys are awesome! I listen to your CD every night to help me relax. I never thought that a CD could have such an amazing effect on me! I have had insomnia for several years and finally I found a way to get me to sleep! Will you ever have another CD out? I know Twin Hearts off by heart!"
– Chloe D., Ireland
I got the CD and card you sent me!! Oh my God.. How beautiful. Your new Twin Hearts CD was just amazing. You sound wonderful on the affirmations!! Anyway, thank you a million times over,
– D. Jackson
I got your Soulmate CD "Twin Hearts" in the mail today and put it in my DVD player to listen to it through my entertainment center. I really felt so much better after listening to it! I put it in my CD player on continuous repeat all night long so I can listen to it while I am sleeping. Thank you!
– David
---
Psychic Twins Buzz
This is a record. I don't think that there are any predictions that are left that the twins made that have not come true already. Now you all see why I believe in them. No one else in the world can match their track record and talent (gift). That is why I wrote the article The Psychic Twins: Oracles of the 21st Century. Thank you, Linda and Terry, for everything!
– David M. Baker, author and host of Beyond the Gate Radio
You are angels among us. If government was clever you could be President Obama's best advisors! You are miracles and an amazing inspiration.
– Ralitsa P.
Thank you for choosing to be born, blessing our earth with your wonderful presence. In Love and Light…
– Lynette
I just wanted to say how truly grateful I am to both of you for your empowering words of hope, wisdom, and faith. I cannot begin to explain to you how much your book "Psychic Intelligence" has enlightened my life, and in the process, the lives of others. You teach of happiness and love, and live by it as well, and I appreciate your sincerity and generous hearts.
– Preston J.
"The Psychic Twins are absolutely AMAZING. They are our A-Listers!"
– Ricki Lake, TV host and author, The Ricki Lake Show
Linda and Terry Jamison are women of deep character, passion, confidence and integrity with gifts that display truth and power on every level. They bring to their work so much more than their very evident and proven psychic abilities – they emanate an energy that comes straight from their hearts allowing others to know they are connecting to their unique essence and needs in a truly open, powerful and authentic way.
– Dr. Kristin Whitelaw (Owner at Dr. Kristin Whitelaw Holistic and Transformative Counseling)
When I first learned of the twins, I was a fan. When I read their books they became my heroes, but then I started to listen to them… to really listen. Not only to their predictions, but to them, and what I heard were two beautiful spirits who choose every day to help others, and in doing so I found Kindred Spirits.
– Joanna D.
The Psychic Twins are the most documented psychics in history. Their amazing world predictions include terrorist attacks, medical breakthroughs, national and natural disasters, the U.S. economy, stock market crashes, et al. Because they keep files on all predictions they write, The Psychic Twins were able to locate at least five different documents of their channeled writing which specifically foretold these events of 9/11 for the year 2001.
– Art Bell "Coast to Coast A.M." Premier Radio 11/99
The Psychic Twins have mind-blowing ESP! They offered us proof on tape of 9/11 and their other amazing world predictions.
– ABC Nightline
I'm obsessed with The Psychic Twins! Terry and Linda are so spectacular and they've predicted so many insanely accurate things. Their new book Psychic Intelligence is a classic!
– Colette Baron-Reid, author of The Map
I saw you on The View and I am extremely amazed at the accomplishments that the two of you have achieved!
– Patrick M.
Fire all of homeland security and hire Terry and Linda Jamison!
– Larry
I have watched every show you two have been on. You two have such a wonderful spirit and great sense of humor. Thank you for your beauty, grace and spirit.
– Kathleen L.
The charisma and power you two have is just unbelievable, and a confirmation of your being genuine and sincere.
– Olivier N., England
---
Books Written By Terry and Linda Jamison
Separated at Earth
Our First Book
SEPARATED AT EARTH: The Story of the Psychic Twins is the inspiring, amazing story of the world-famous Psychic Twins, Terry and Linda Jamison. "The Psychic Twins" are internationally acclaimed for their astounding predictions of the 9/11 World Trade Center and Pentagon attacks, and the 2000 stock market crash (all on national radio show Art Bell, 1999.) Separated at Earth is the inspiring, amazing true story and it is available on Amazon.com by clicking here.
Psychic Intelligence
#1 Best Seller
The Psychic Twins' #1 Best Selling book is available for purchase at Amazon.com! and a bookstore near you right now! In their new book Psychic Intelligence, Terry and Linda Jamison explain, step-by-step, how to dissolve the blocks that can prevent you from using and trusting your own intuition. Visit Amazon.com now and purchase The Psychic Twins' second book, "Psychic Intelligence". This book is available right now by clicking on the following link. Click here to visit Amazon.com.
Book Buzz
Psychic Intelligence is a good read – intelligent, yet easy to understand.
– Sylvia C. Browne, author of 40 books
Psychic Intelligence is the best spiritual book published to date!!! (Amazon reviewer)
– Denise O.
Psychic Intelligence should be at the top of Oprah's list for her Book Club 2.0 because it's a groundbreaking book by the world's most documented accurate psychics. Your book gives really practical and helpful advice anyone can use for bettering their lives and improving their situation. Highly recommended.
– Michael V.
Psychic Intelligence By Terry and Linda Jamison is one of the best books I have ever read! We are all psychic, and this book shows you how to tap into it step by step! My 16 year-old daughter is reading it now and she has found out she has more abilities than she thought she had, and has also gained new psychic and spiritual abilities that I've noticed. Terry and Linda have helped awaken more of my child's psychic abilities and I am very grateful of this. I am just simply fascinated! I highly recommend this book for Oprah's Book Club! On a 1 to 10 scale, I say10 hands down and over the top!!
– Danielle D.
Thank you for sharing your wisdom/knowledge with us in the way that you do and helping others not feel "weird" for believing in and having heightened intuition. You help us not feel alone, and you give us the tools to help ourselves. I never expected I could be this blown away! I finally understand everyone before me and how they raved about Psychic Intelligence. I feel like a kid in a candy store or something when I talk about it! I'm just excited and thankful! Yay!
– Samantha W.
I have seen and heard of other psychics in this life, but you two are just beyond! Your track record and your help with so many people in this life is amazing. I truly believe God has placed you in this lifetime as a guide for humanity.
– Jean V.
Have just seen your episode of The UneXplained, it took my breath away. First, the reading was heartbreaking, so emphatic, very emotional and yet another proof of your authenticity. After so many years of uncertainty, this family has now complete insight what really happened to their daughter/sister. This shows that everything happens for a reason (even such a terrible crime as murder). It's all about learning our karmic lessons as forgiveness to enlighten our soul. Terry and Linda, you are truly a blessing for humankind. ♥♥
– Sana M., Serbia
Darling Beloved Mermaids,
My head continues to spin around really fast, trying to keep up with you Two! You are so beautiful and incredible… thank you
for being alive and showing us the future so clearly!
– Martha L.
Lady Gaga's got nothing on you two. You give the world hope and you do it with such humility and compassion. Hope is something that is sorely needed in the world right now. You're super connected to the Source.
– Judith R., Arizona
You are both such pure souls, real gems… the real deal… you carry the energy that could heal the world. You help the world as we search for the divine, you represent the highest energy — the essence of love. With individuals like you the community around us is blessed. You represent the highest expression of love & consciousness. Bravo, great teachers, BRAVO.
– Delaine S., Texas
Your gifts are so much more important than showmanship, curiosity and money. They hold among them the unique attributes to help usher greater and greater bits of heaven unto earth by eliminating darkness and illuminating truth. I hope you continue your "war" on darkness and ignorance.
– Patrick
I think the government should listen to your predictions more, as you have a 100% track record that no one else can claim. You both are the real deal… in the psychic world you are my idols! Many psychics and mediums have egos, you both don't. You're spot on every time.
– Gary A., UK
Note: No portions of this newsletter may be copied or reprinted without the permission of Linda and Terry Jamison. Beware of imitators! The Psychic Twins is an official registered trademark. © 2017